Under Bed Storage for Kids: A Simple IKEA Hack
This Ikea Mydal bunk bed hack is the perfect under bed storage solution for kids' bedrooms! Use the extra space to organize toys, clothes, or bedding!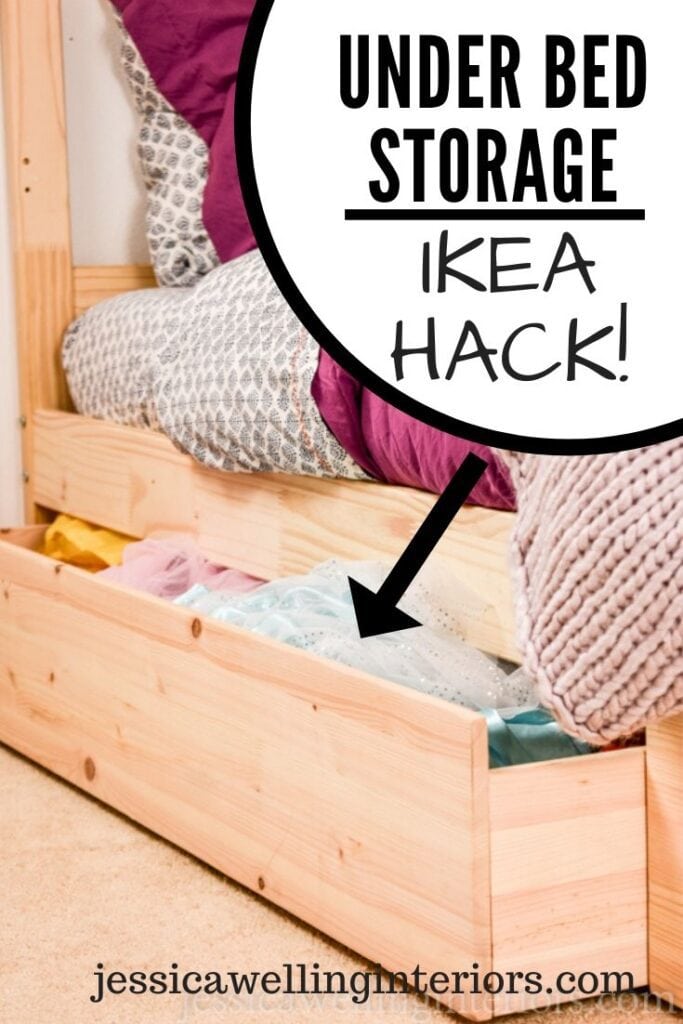 Hello! Now that the holidays are over, I'm getting back after the girls' boho bedroom makeover. And since it's POURING rain right now, it's the perfect time to write about a clever (if I do say so myself!) under bed storage hack. And nothing cheers me up on a dreary day like a good Ikea hack!
I used to find all sorts of junk under the girls' old beds. Books, socks, snacks, you name it! It's always been a bit of a pet peeve of mine. The space under their beds wasn't working very hard for us. But no more!
Ikea Mydal Bunkbeds for the win!
We got the inexpensive MYDAL bunk beds from Ikea, which I love! (Did I mention this is the 4th time I'm using these particular beds in a design?) We first used them in the beach house bunk room. They're great because they're cheap, very functional, and nice-looking as-is, or you can finish them however you like! But you will notice that there's a nice big gap under the bottom bunk. And although it would make a good hide-and-seek spot, I wanted to maximize storage space in this small bedroom.
Hemnes Under Bed Storage Boxes
Ikea does have these Hemnes under bed storage boxes. They're basically rolling drawers, and they fit perfectly under the Mydal bunk bed. The problem? They don't come in a wood finish. And they won't close all the way under the Mydal bed because of the ladder. But never fear! I've got a simple hack to make these under bed storage boxes work with the Mydal bunk bed.
here's what you'll need:
1. Sand the drawer fronts with 40 grit sandpaper
When I bought the Hemnes under bed storage boxes, I was expecting that the drawer fronts would have the dark grey finish on them, and the rest of the drawer boxes would be unfinished pine. Not so. All the pieces were finished in dark grey, so I sanded them ALL. But if I did it again, I would just remove the finish from the drawer fronts to save a ton of time and elbow grease!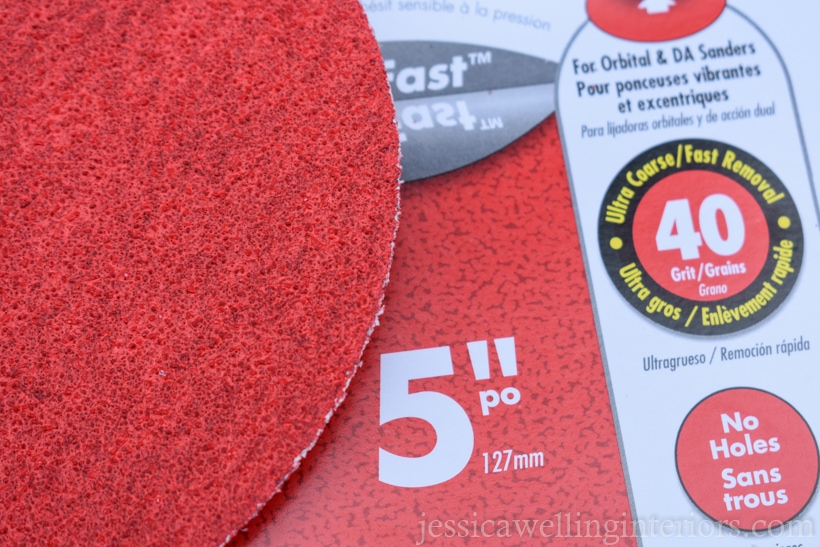 The lower the grit number on the sandpaper, the rougher it is. This means it will remove a lot of material from your wood quickly, which is what we want. We'll start with 40 grit.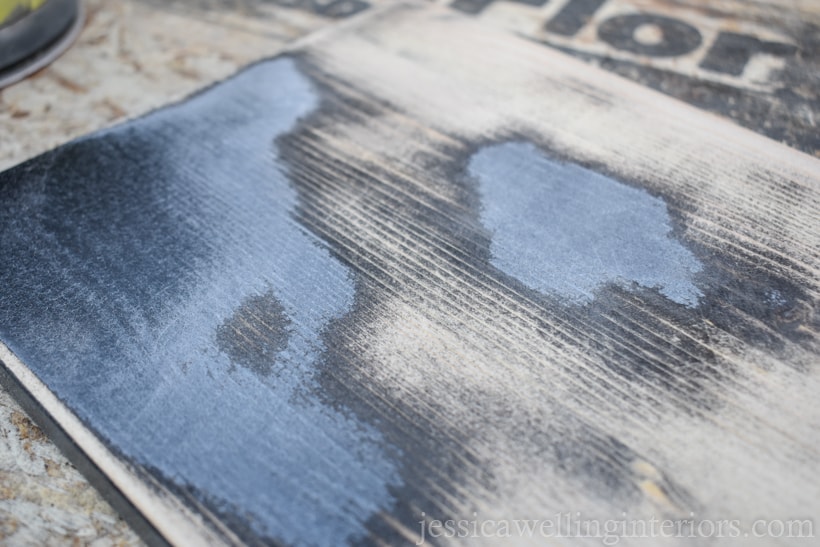 2. Sand with 80 grit Sandpaper
Next, we'll sand with 80 grit sandpaper. It's finer, and will create a smoother finish.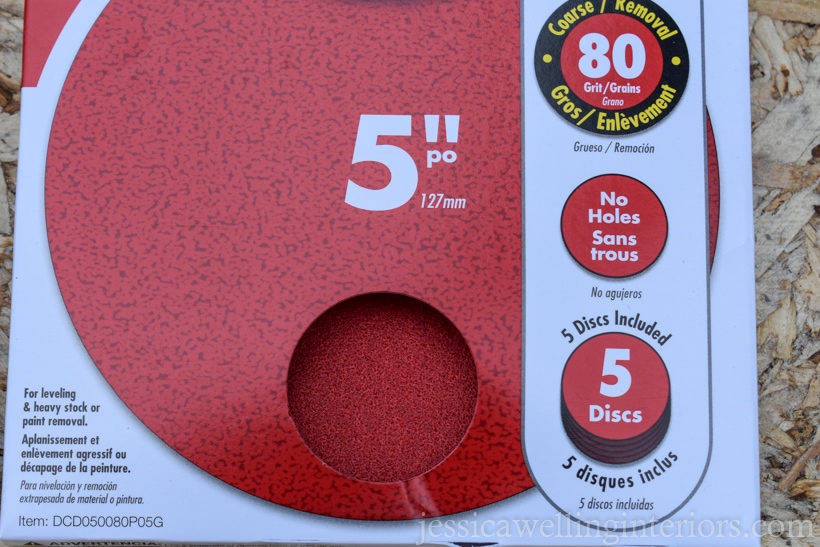 3. sand with 120 grit sandpaper
Finally, sand with 120 grit. This will smooth everything out. There should be no black or grey spots left when you're all done.
4. Assemble drawers
Follow the instructions that came with your Hemnes drawers to assemble them, and place them under the bunk bed.
5. cut the bunk bed ladder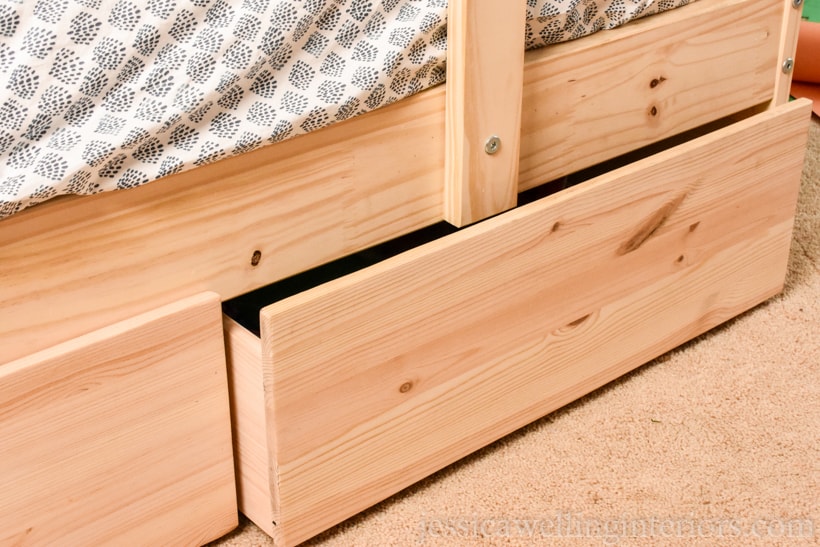 Now you can see that the storage drawers are almost a perfect fit under the bed. The only thing in our way is the bottom of the left side of the bunk bed ladder, which doesn't allow the drawer to close all the way. (If you assemble your bunk bed the other direction, the ladder will be in a different spot, but you'll still have the same problem.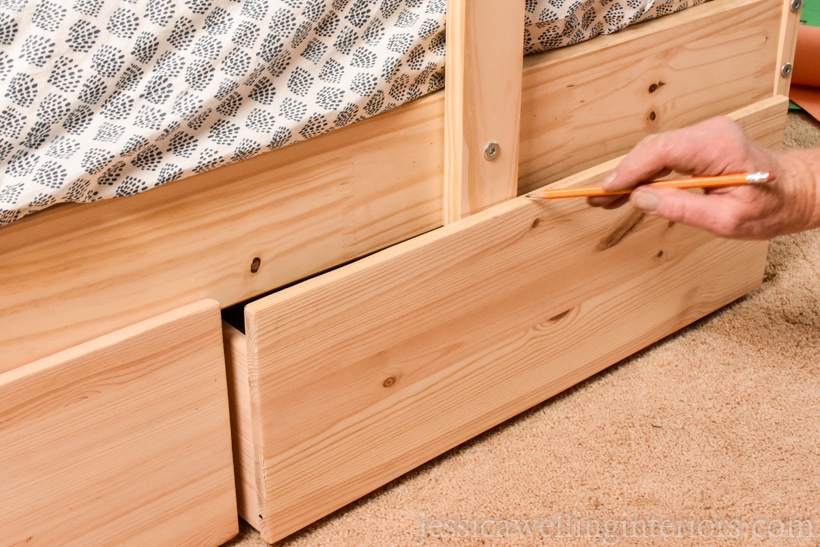 We marked the bottom of the ladder with a pencil, and used an oscillating multi-tool to cut about an inch off the bottom of the ladder.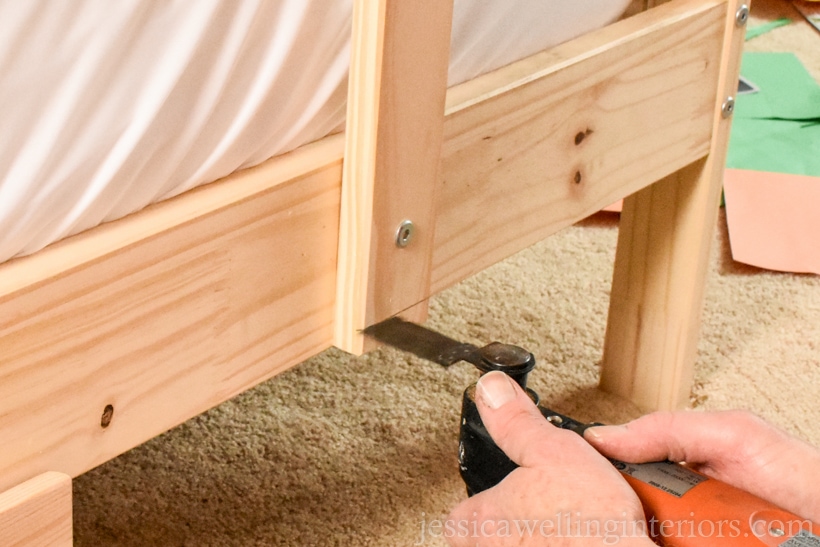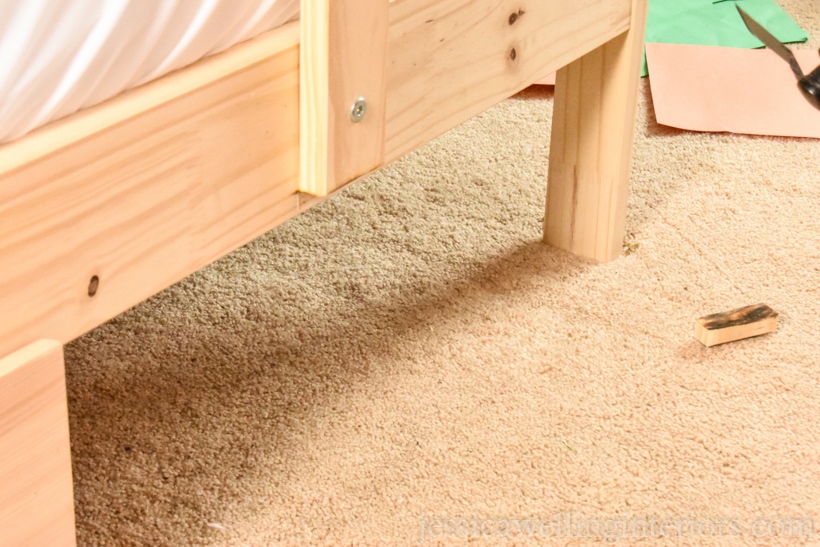 And that allows the drawer to slide in all the way.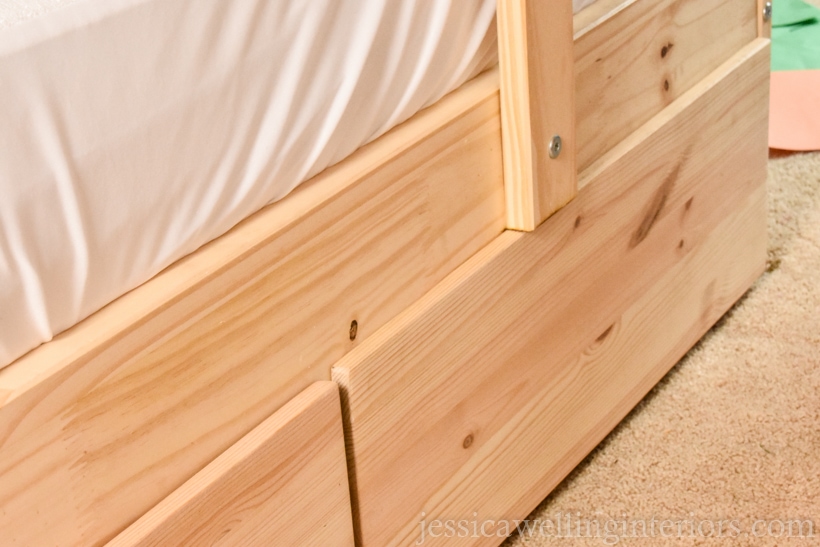 That's it, we're done!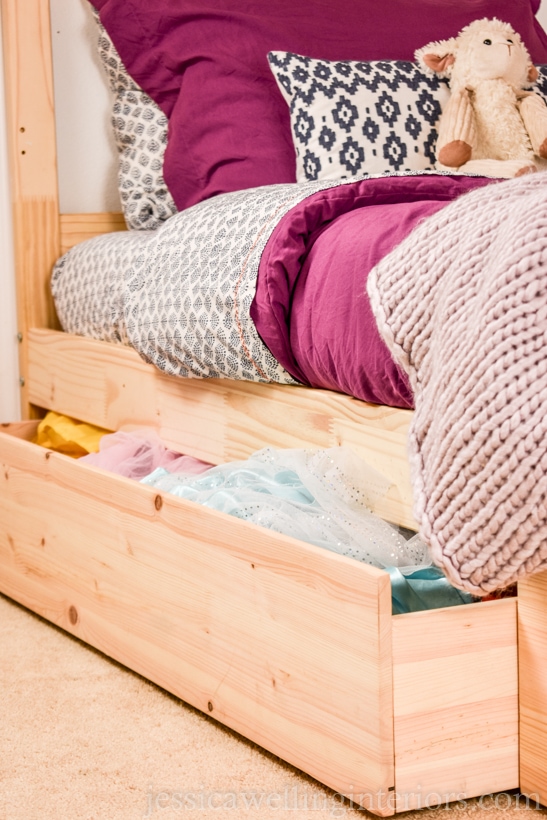 We're using the drawer space under the kids' beds to store dress-up clothes for now. But these drawers could also be used for clothes, toy storage, extra bed linens, or whatever. When it comes to storage for kids' rooms, you can really never have too much!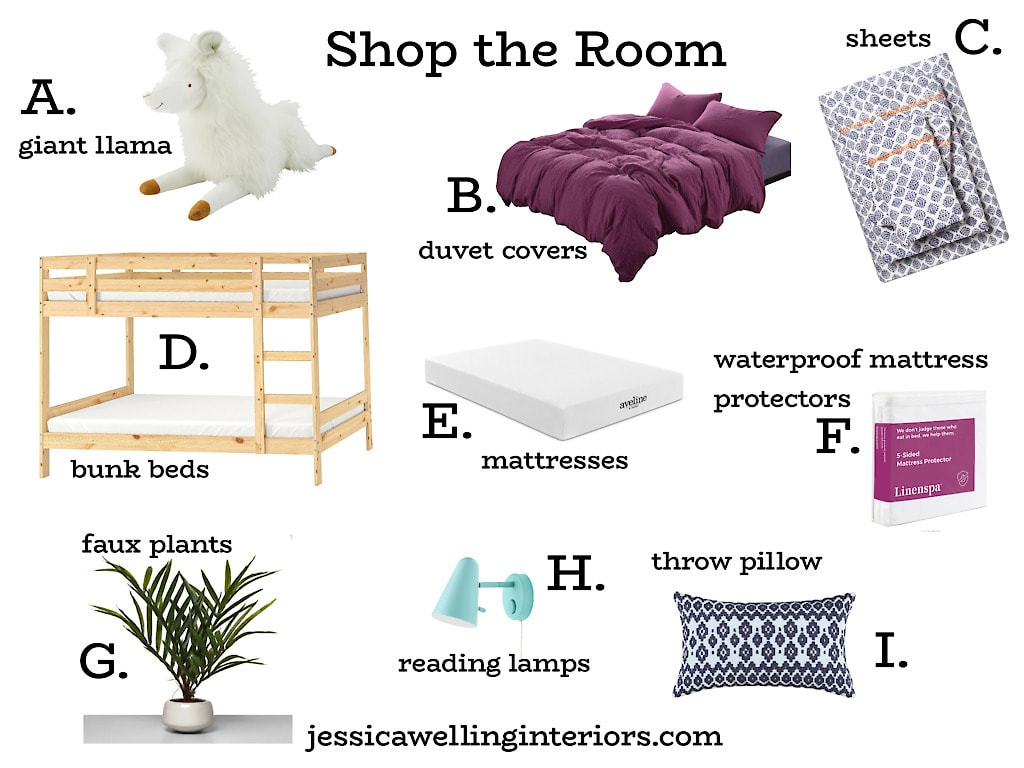 A.
E. 6″ Memory Foam Mattresses– these are the best & most comfortable inexpensive mattresses I've found after trying 3 different brands!
F. Waterproof Mattress Protectors– again, third time's a charm. These wash well & can even go in the dryer. Also they don't leak!
I. Aitliving Embroidered Throw Pillow Cover
The girls' boho bedroom makeover is a work in progress. I would love to have you join us for the journey! If you want to follow along with our progress, CLICK HERE!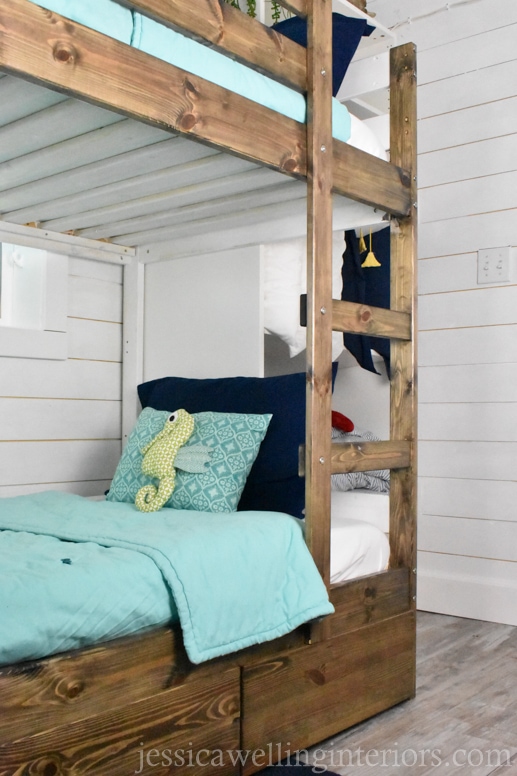 We used this same under bed storage IKEA hack in the beach house bunk room. The only difference was that we stained the drawers to match the bunk beds.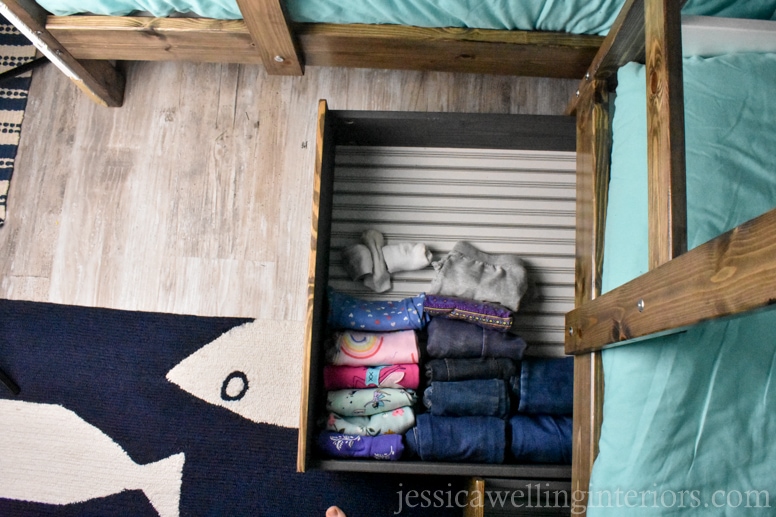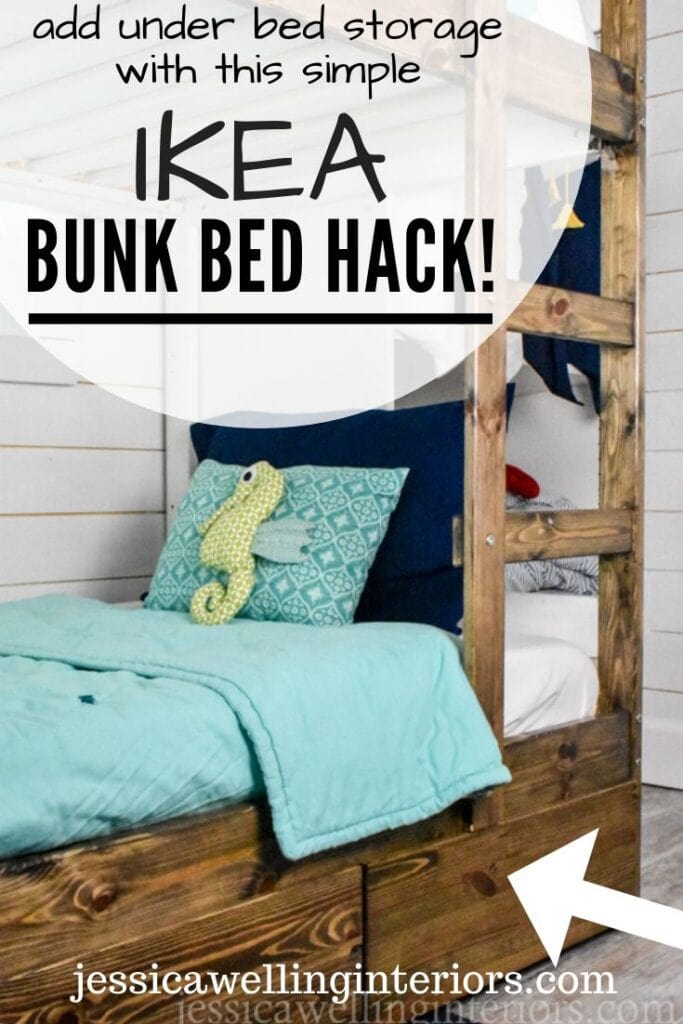 Alright, now go make use of the space under your kids' beds!
more kids' bedroom Storage ideas…
A Very Beachy Bunk Room: Part II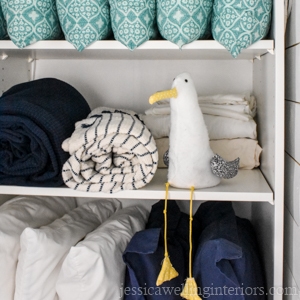 Organize Kids' Clothes for School!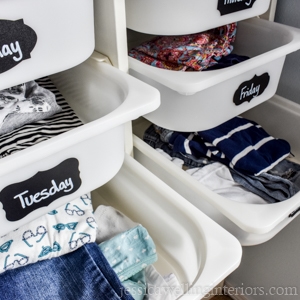 Toy Storage Ideas: How We Tamed the Playroom Chaos