5 Small Home Office Ideas to Steal in 2023!
These modern small home office ideas are perfect for apartments, small corners, and even closet offices. Recreate these shoppable designs at home!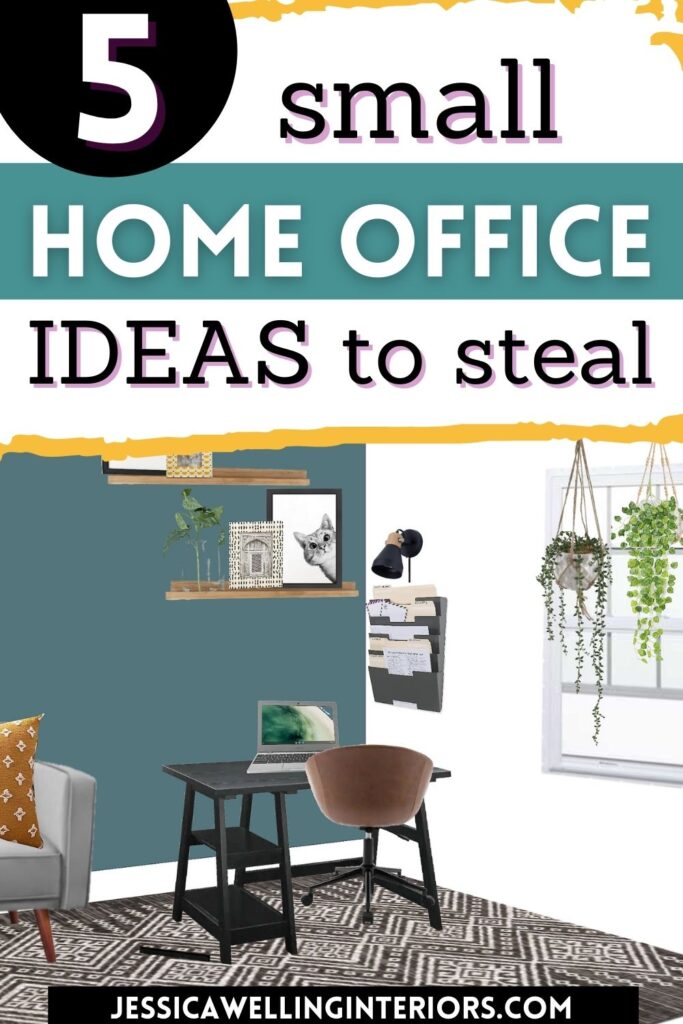 Do you need to squeeze your workspace into a small corner of your living room or even a closet? These brilliant small home office ideas were created using only inexpensive products available online, so you can easily recreate them in your own home!
The best part? They're not only highly functional productive workspaces, they're modern & stylish too!
If you have a dedicated room for your home office or a slightly larger space, check out these 5 shoppable home office ideas: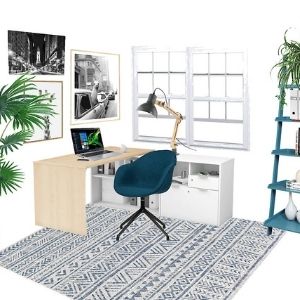 Small Corner Office Ideas
If all you have is a small corner to dedicate to your home office, never fear! There are plenty of brilliant and budget-friendly small desks available.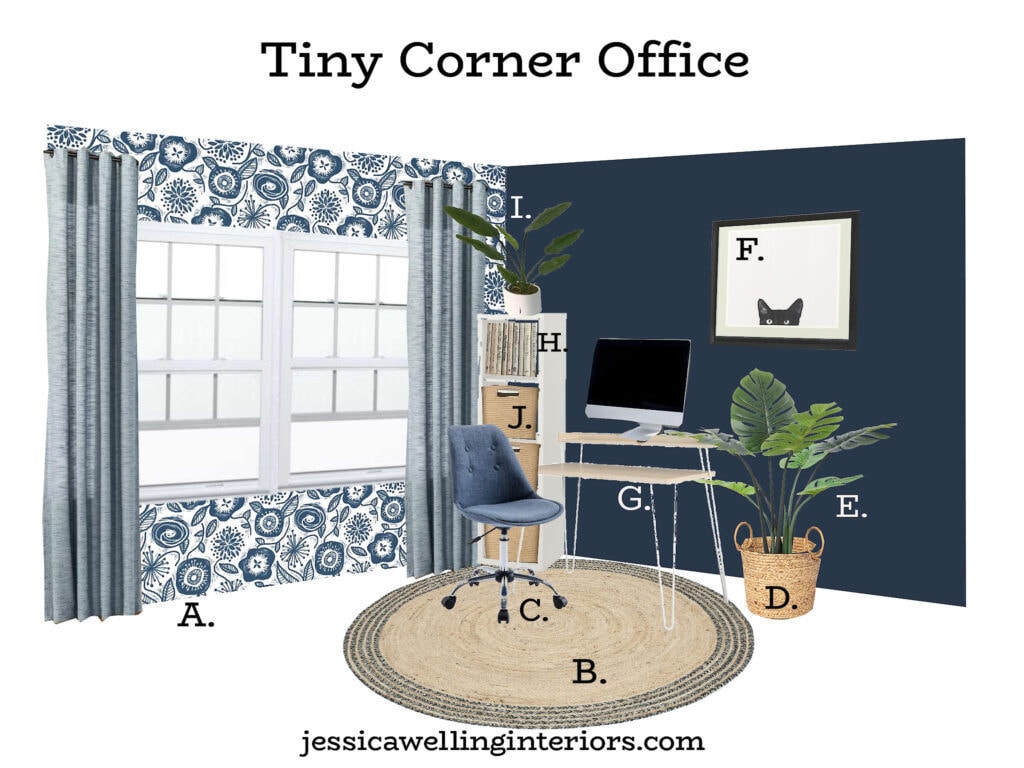 A. Spoonflower Peel and Stick Wallpaper Blue Mod Vines, from Amazon
B. Safavieh Handmade Coastal Jute Rug, from Overstock
C. Porthos Home Office Chair in Blue, from Overstock
D. Threshold Basket with Handles, from Target
E. Crosofmi Monstera Deliciosa Artificial Plant, from Amazon
F. Curiosity (Cat) Wall Art, from Wayfair
G. Shanewood Rectangular Home Office Desk, from Home Depot
H. Kallax Bookshelf, from Ikea
I. Project 62 Artificial Banana Tree in Pot, from Target
Living Room Office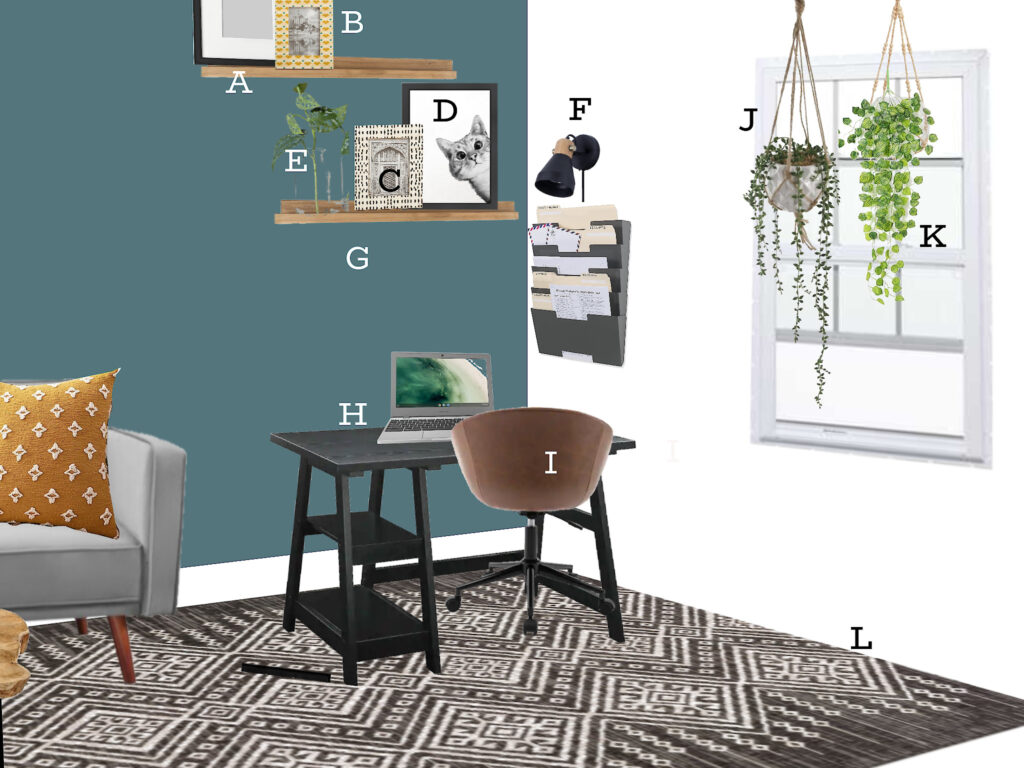 A.
B. Marigold Yellow Geo Bone Frame, from World Market
C. Black & White Abstract Dots Bone Frame, from World Market
D.
E. Silver Philodendron Arrangements, from Target
F. Tehenoo Wood Plug In Wall Lamp, from Amazon
G. Wallniture Wall File Organizer, from Amazon
H. Porch & Den Logan Desk With Shelves, from Overstock
I. Woven Byrd Modern Barrel Shaped Task Chair, from Overstock\
J. Artificial Succulent in Pot, from Wayfair
K. Wood Bead Plant Hanger, from World Market
L. The Curated Noman Lori Indoor/Outdoor Rug, from Overstock
Closet Offices
A closet office creates a nook almost like a study carrel, which I like to think would make me less distracted while I'm working. It also tucks your desk and any office clutter back so it's less visible from the rest of the room.
Closet offices do tend to lack natural light, so it's important to have good task lighting over your desk, and lighting your face for Zoom meetings.
When desk space is at a premium, as it tends to be in a closet, I recommend installing wall-mounted task lamps above the desk to make the most of the space and keep the look uncluttered. You can get corded ones that plug into the wall so you don't have to do any electrical work.
Here's a list of my favorite inexpensive desk lamps, with 2 whole sections of wall-mounted options.
Tiny Closet Office Nook
Closets in older homes are often really small. But don't let that stop you from creating a modern office nook! This one even has a shelf for the printer and file storage!
When you have a small space like this one, you may have to cut down the desk top to make it fit into the closet. I have a tutorial for this coming soon. You can see the my quick & easy DIY floating shelves tutorial here.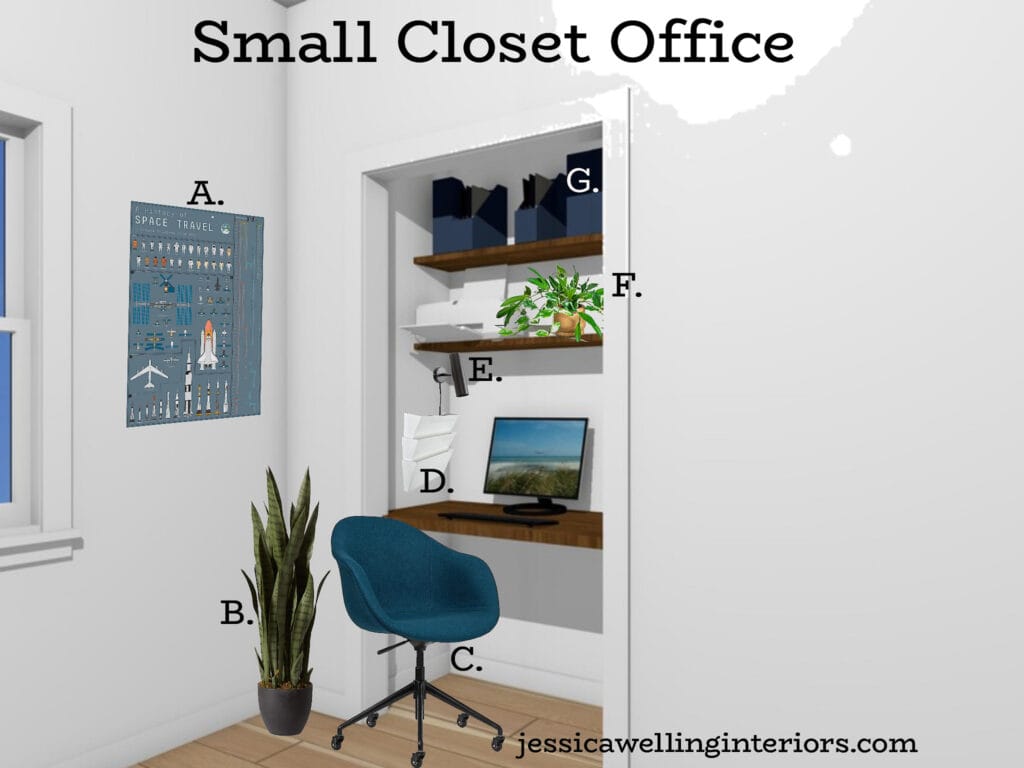 A. A History of Space Travel Poster, from Amazon
B. Nearly Natural Sanseviera Plant in Pot, from Amazon
C. Astoria Office Chair by Laura Davidson, from Amazon
D. Acrimet 3 Pockets Wall Mount File Organizer, from Amazon
E. Modern Plug In Wall Sconce, from Amazon
F. 7″ Mini Faux Hoya Potted Plant, from Target
G. Alfion Magazine File Organizers, from Amazon
Small Closet Office
This bedroom closet is slightly larger than the last one, so there's room for a narrow drawer unit supporting the desk top.
I'm a huge fan of pegboard wall organizers for office supplies because they get everything up off the desk surface. And they also provide a place to hang calendars, memos, photos, and whatever else you may need to keep in sight.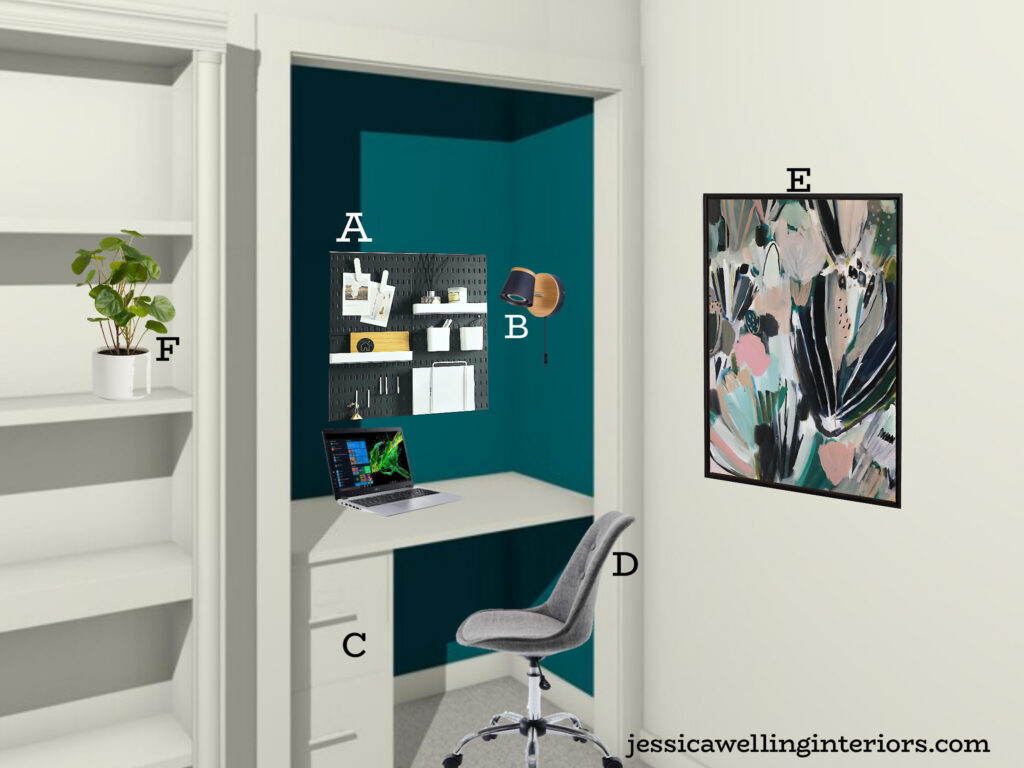 A. Keepo Pegboard Combination Kit, from Amazon
B. Tehenoo Modern Industrial Plug In Wall Lamp, from Amazon
C.
D. Porthos Adjustable Height Home Office Chair, from Overstock
E. Fresh Indigo Canvas, from Minted
F. Faux Chinese Money Plant in Pot, from World Market
More Home Office Ideas…