Colorful Boho Christmas Living Room Tour!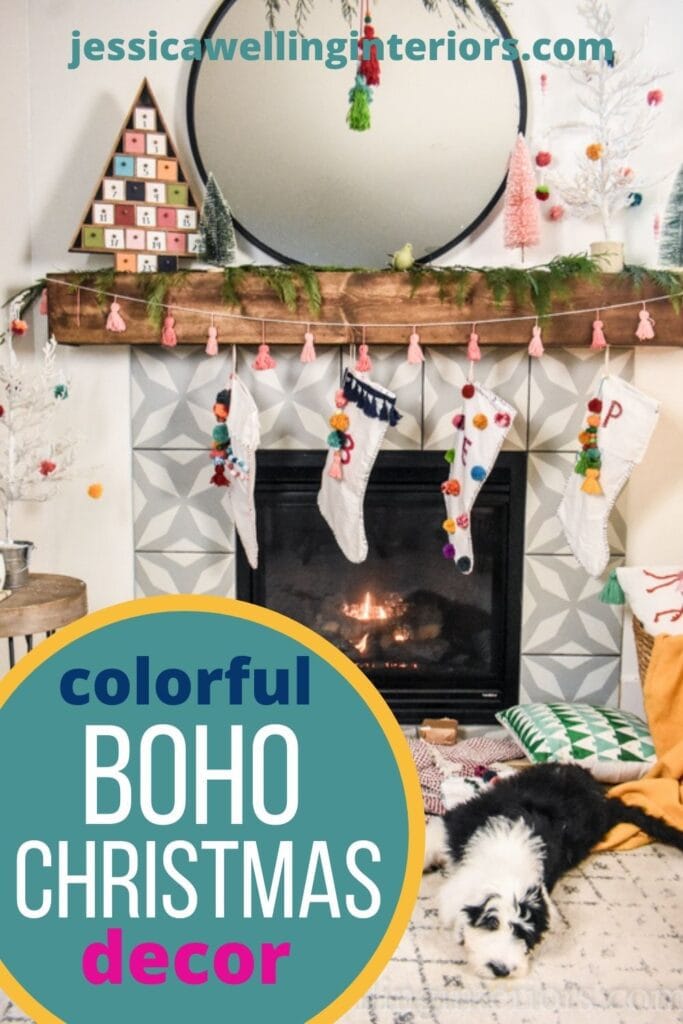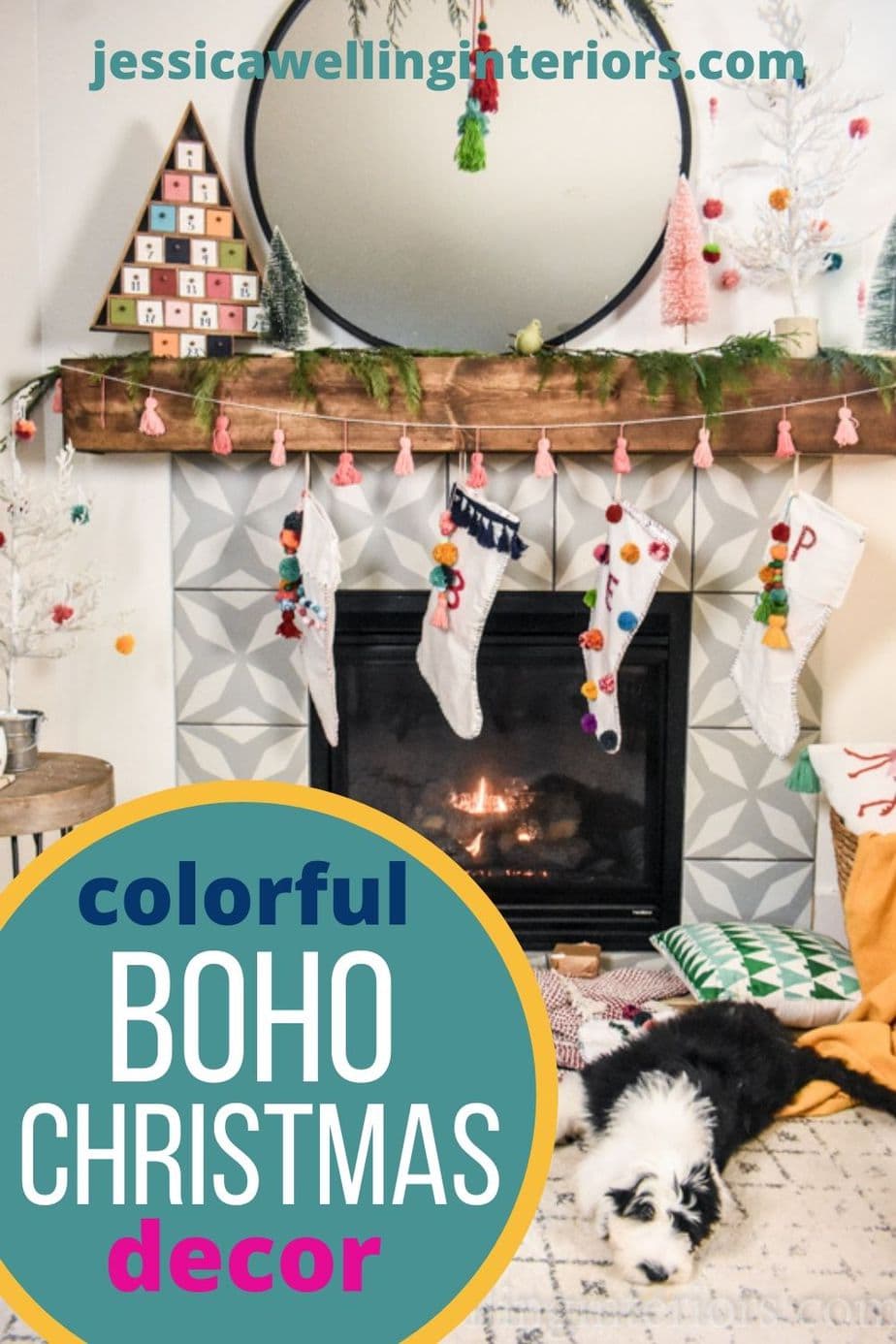 I'm so excited to be participating in my first-ever Holiday home tour today, hosted by 11 Magnolia Lane and Evolution of Style! Each day, several bloggers will be sharing their amazing Holiday Home Tours. You can see the whole tour at the bottom of this post.
Boho Christmas Mantel
Aren't we all so ready for Christmas? And then, of course, to kiss 2020 goodbye! I know we could all use some fun holiday cheer right about now.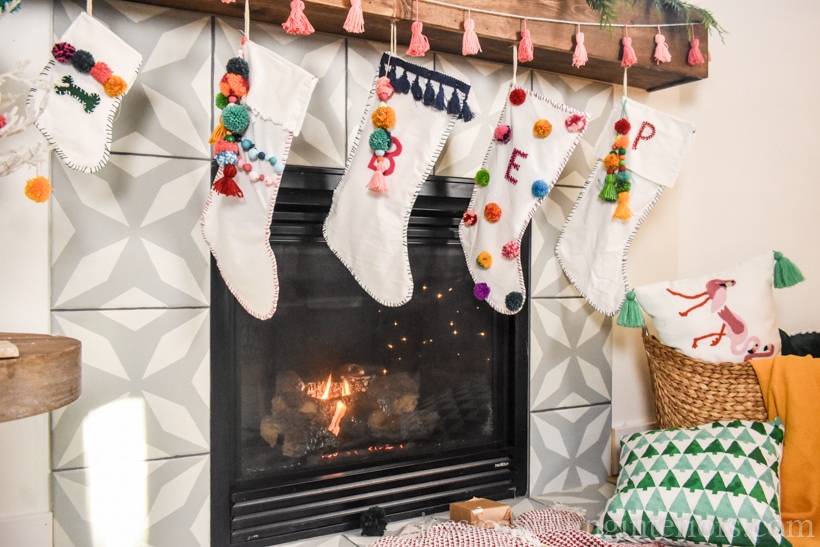 Today I'm revealing my Boho living room, all decked out for Christmas. And meet our newest family member, Fozzy (AKA "The Destroyer").
Every time I hang an ornament on the tree, he pulls another one off, bows with his little bottom in the air, and tries to get us to chase him! The tassels are his favorite. But how can I stay mad at that face?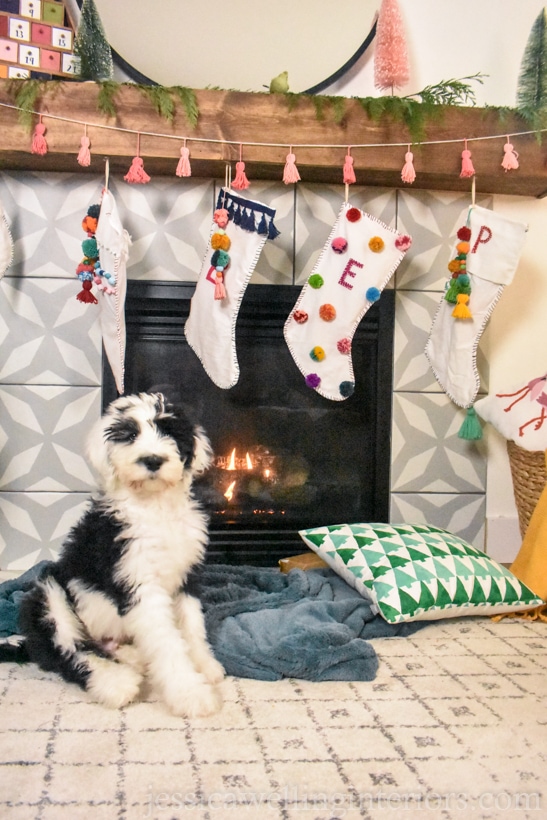 I was originally planning to do pink and green for my Christmas colors this year. But I kept adding more and more colors to the mix. And I kept making more and more pom poms and tassels. Probably a coping mechanism, but it really is fun! The tutorials for all these projects are coming soon!
I made these super-fun Christmas tree throw pillows last year, using a potato stamp! It was a project I'd remembered loving as a kid. You can see the tutorial for the potato stamp throw pillows here!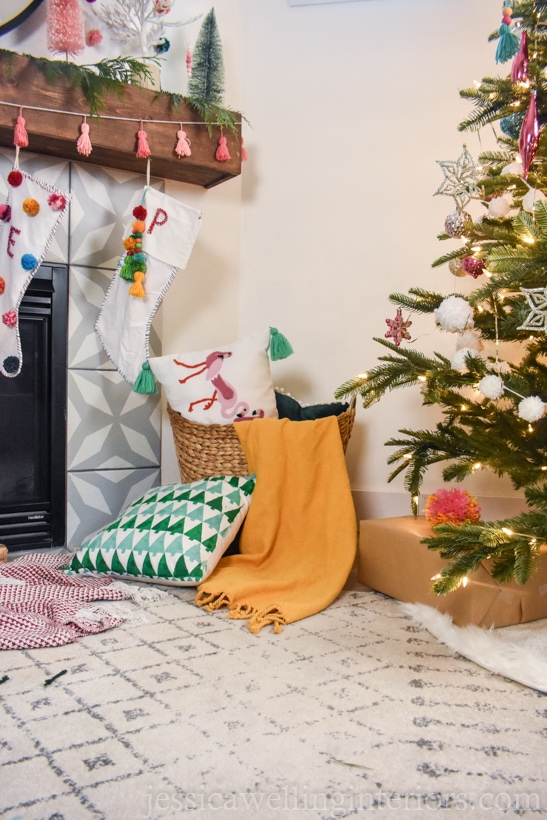 I've been admiring Boho Christmas stockings this year, and I decided to go for it and make my own (tutorial coming soon!).
In the meantime, here's a list of all my favorite modern Christmas stockings available online for under $30! (Some are wild and colorful, and others are more tame and traditional if that's more your jam).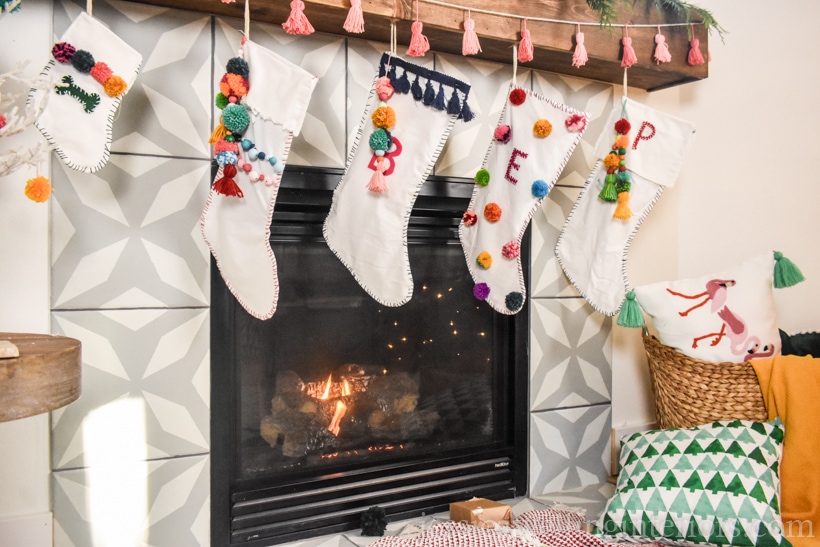 DIY Advent Calendar
This DIY advent calendar is one of our family's favorite Christmas traditions. It used to be red and white, but it got a small makeover to go with the new color scheme. You can see the full tutorial to customize your own at the link above!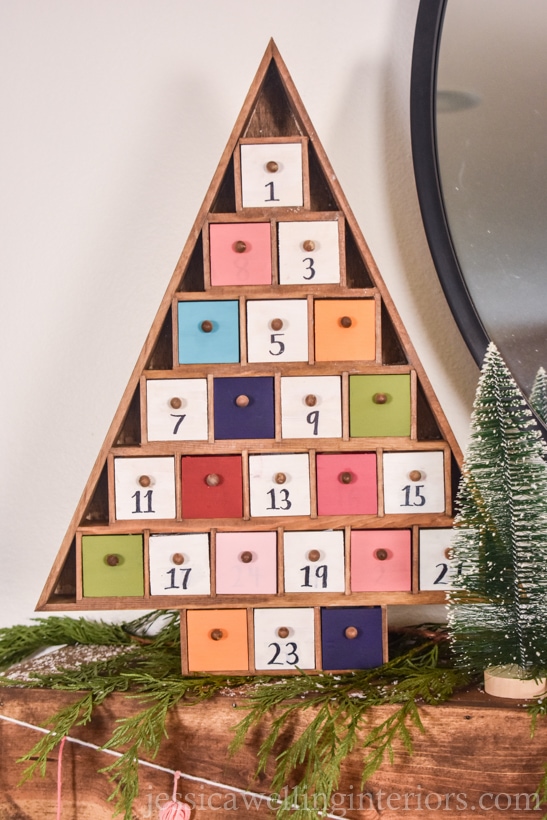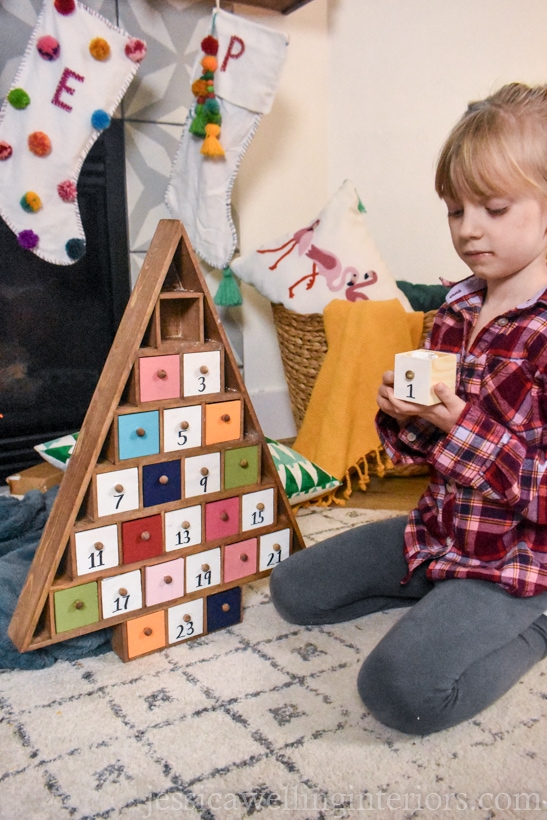 Boho Christmas Tree
I've always been a real Christmas tree girl. But I needed my tree early this year, so I finally caved and got an artificial tree. I wanted a more sparse Boho look for my modern decor, so after much agonizing research, I chose this Puleo Colorado Green Fir 7.5′ Pre-Lit Tree.
The verdict? I love it! It was very easy to assemble for this first-time fake tree girl. And the real win is that it looks totally real.
And did I mention it's pre-lit? Wrapping lights around the tree is one of my least-favorite Christmas decorating tasks.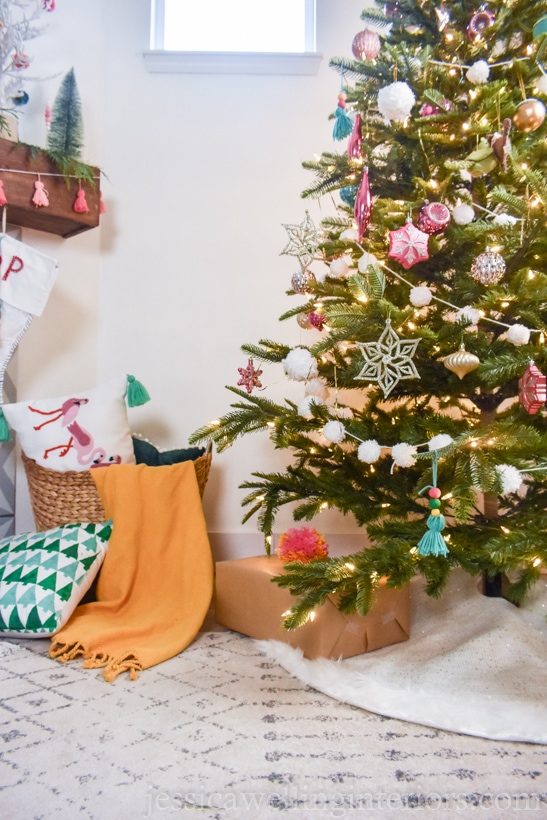 We made white pom pom garlands for the tree. Here's the tutorial08775-. The girls love helping make pom poms too!
And of course Fozzy loves to pull the pom pom garlands off the tree.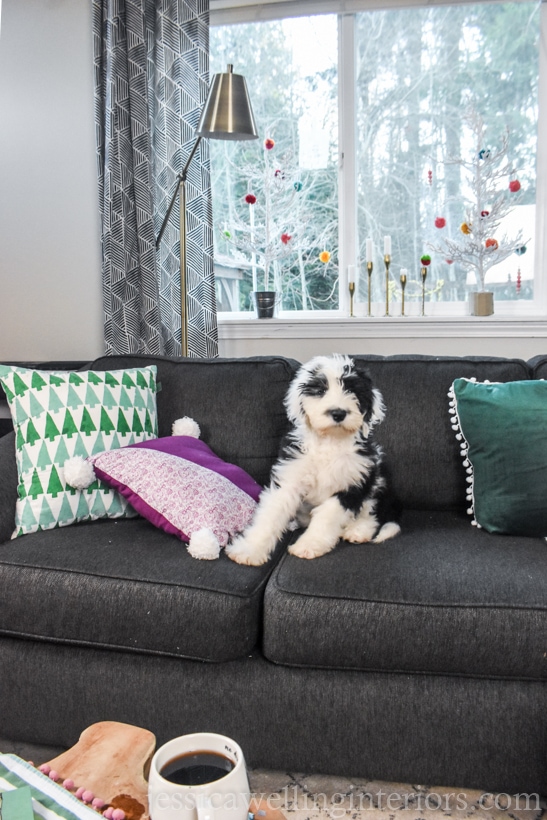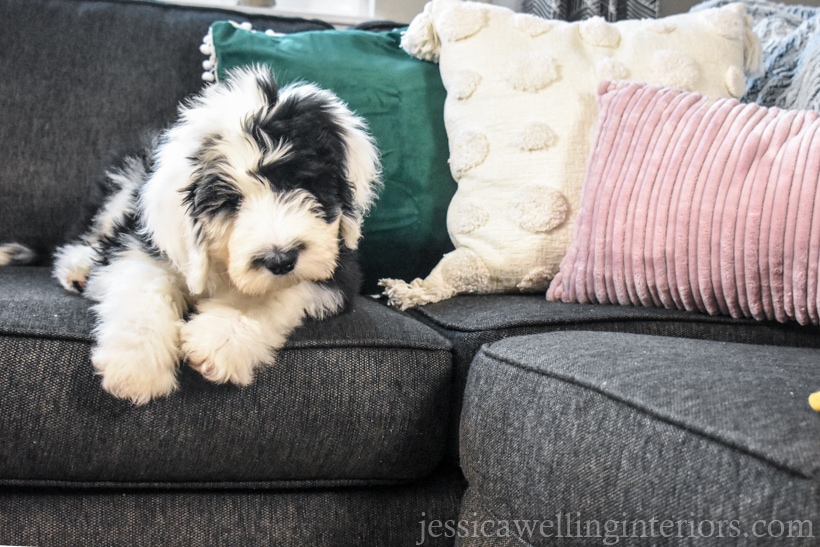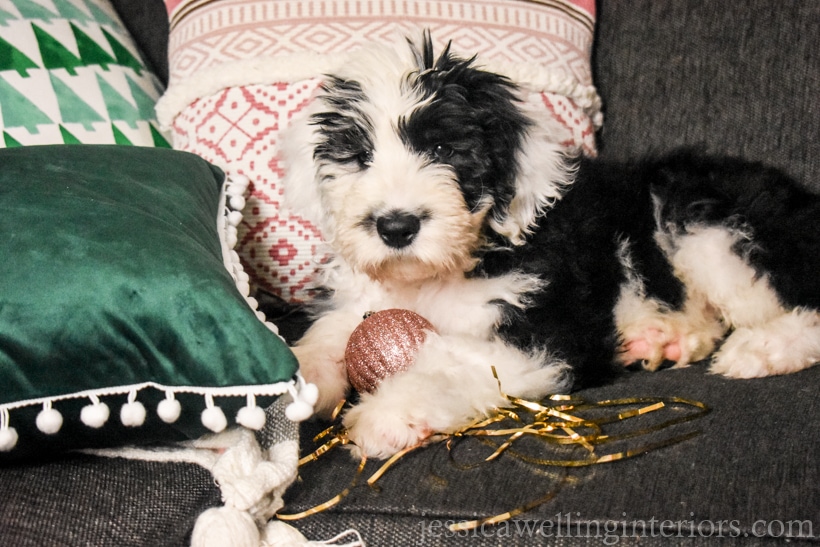 Next up on today's holiday home tour is Amy's gorgeous classic casual living room over at Eleven Magnolia Lane!
You can see the rest of the tour here: Be sure to stop by again, as I'll be adding more each day!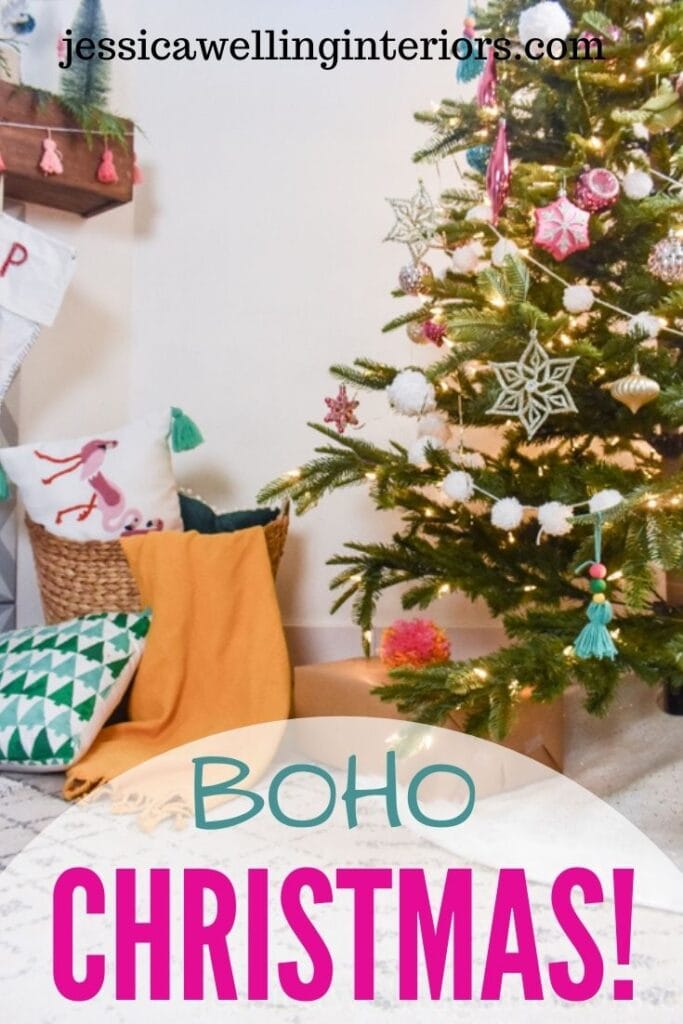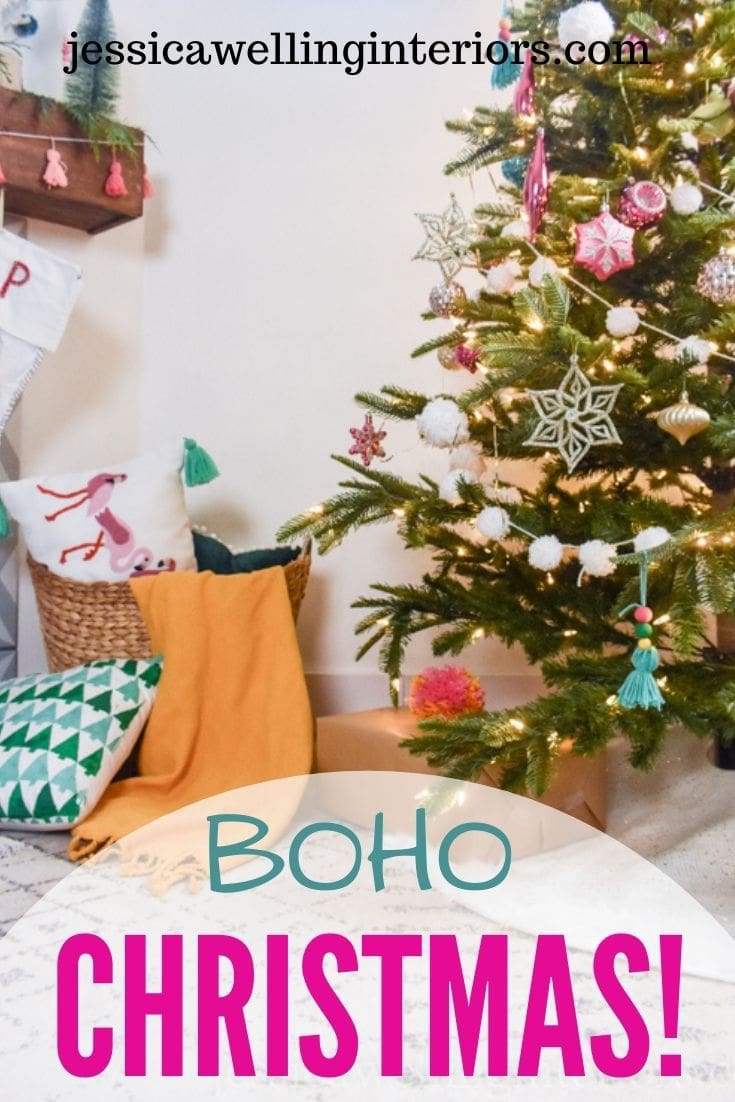 Monday, November 30th (Front Porch/Outdoor Spaces)
Southern Hospitality
|
Setting for Four
|
Southern State of Mind
|
Less Than Perfect Life of Bliss
|
Most Lovely Things
|
Cindy Hattersley Design
|
The Creativity Exchange
Tuesday, December 1st (Entries/Dining Rooms)
11 Magnolia Lane
|
Home by Heidi
|
A Stroll Thru Life
|
This is Our Bliss
|
Summer Adams
Wednesday, December 2nd (Living Rooms/Dens)
11 Magnolia Lane
|
Evolution of Style
|
Dixie Delights
|
Jessica Welling Interiors
|
Sincerely, Marie Designs
|
Classic Casual Home
Thursday, December 3rd (Kitchens/Laundry Rooms/Misc.)
Citrine Living
|
Quarters One
|
Style House Interiors
|
A Blissful Nest
|
Painted by Kayla Payne
|
A Stroll Thru Life
=========
Friday, December 4th (Master Bedroom/Kid's Rooms)
Sincerely, Marie Designs
|
Pink Peppermint Designs
|
The Heathered Nest
|
Bloom in the Black
|
Evolution of Style
|
Dixie Delights