These modern throw pillow covers for Fall are the perfect thing to bring some warmth and style to your living room this season!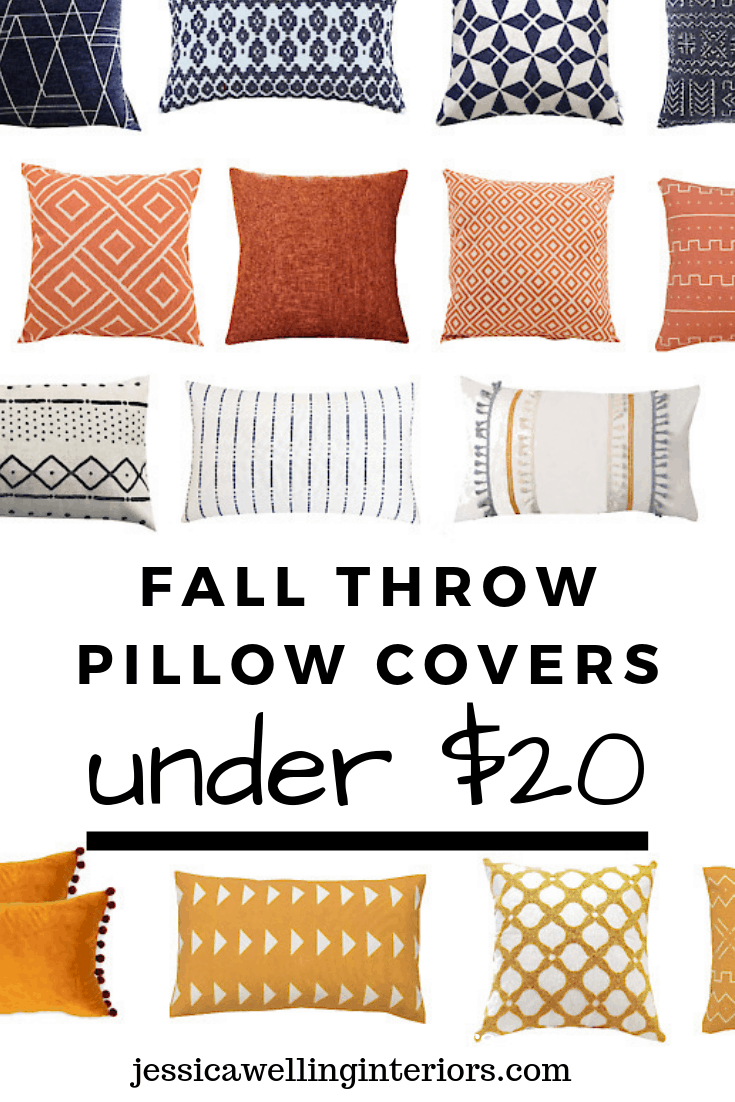 What does Fall make you think of? For me, it's cozy throw pillows, of course! More specifically, cozy colorful, textured throw pillows and blankets, a good book, a fire, and a cup of chai tea.
So in preparation for Fall, I've scoured Amazon for the best deals on stylish modern throw pillow covers. You won't find any cute sayings or wagons full of pumpkins here, but you will find loads of cozy texture, warm spicy colors, and patterns that will bring the modern feel you're looking for! The best part? They're all under $15 each- most of them less than $10! Happy shopping!
Check out this post: Modern & Cheap Throw Pillow Covers in Every Color! And don't miss this one either: Cheap Throw Pillow Covers for Spring & Summer.
why covers?
Why throw pillow covers, you ask? Because this girl has a small throw pillow problem and I don't have the closet space to store mountains of off-season throw pillows. Do you? Didn't think so.
Throw pillow covers are perfect because I can change them out on a whim and the whole collection (it's a big collection, okay?) fits into a small basket in my linen closet.
I especially like the quality of Slow Cow embroidered throw pillow covers. I have a few of them around my house and they are awesome! You'll see this brand several times in the listings below.
Neutral throw pillow covers
The keys to great throw pillow combos are color+pattern+texture. And for Fall, we're looking for cozy warm texture. So I like to start with a few neutrals (which you can use year-round) and build in some color after that. Here are some of my favorite white, cream, and grey throw pillow covers.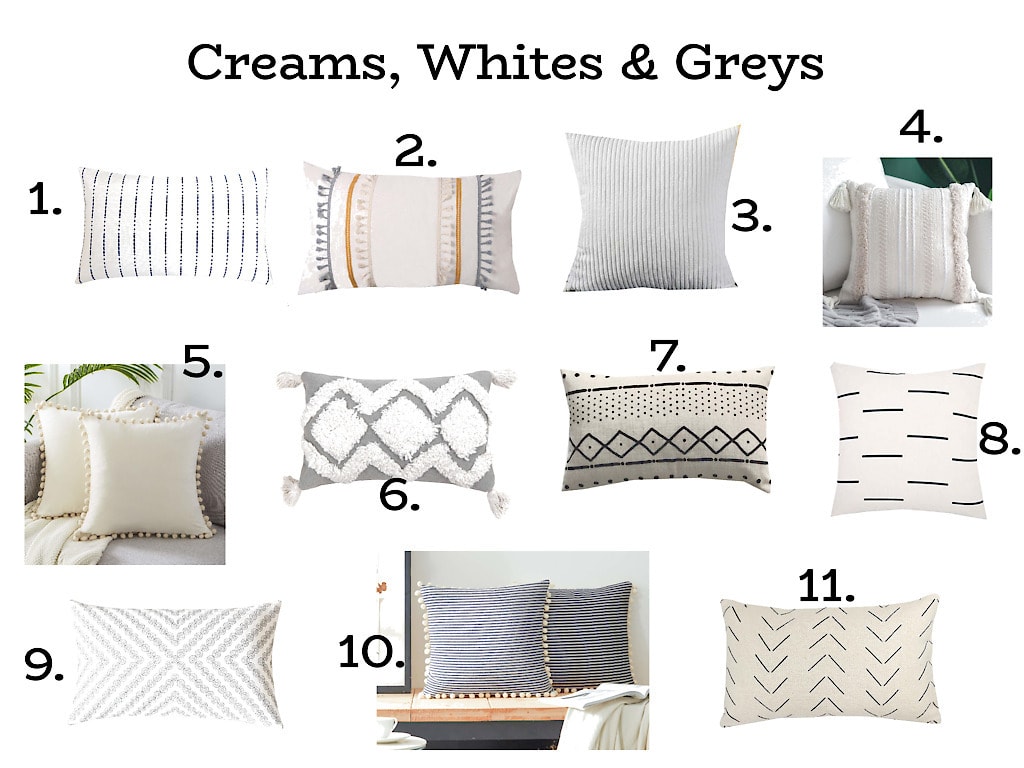 orange throw pillow covers
Don't be scared of a little orange! I love to add some orange throw pillow covers to my Fall decor. It doesn't quite feel like Fall without it! The key is choosing the RIGHT orange, and balancing it with neutrals and other colors.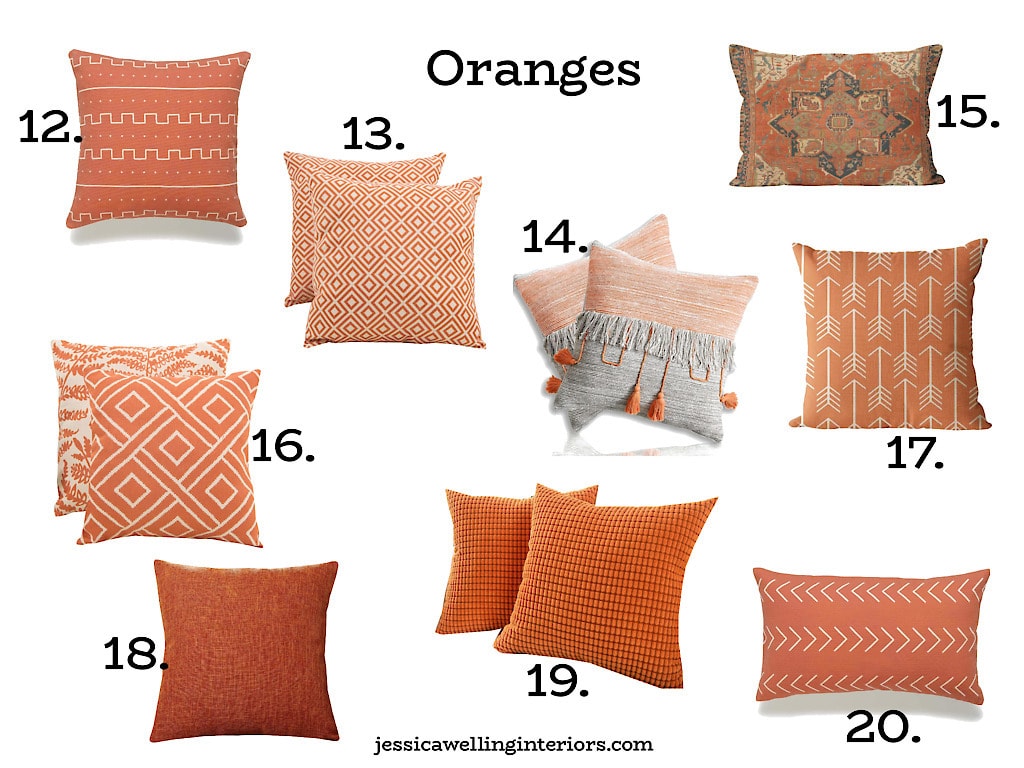 12. Hofdeco Mudcloth Pillow Cover in Rust
13. Sunshine Fashion Covers, Set of 2
14. Warm Day Soft Square Throw Pillow Covers
15. Suike Flying Carpet Throw Covers
16. Sunshine Fashion Modern Farmhouse Throw Covers
17. QINU KEONU Feather Arrow Cotton Throw Pillow Cover
18. U'Artlines Slubbed Orange Pillow Cover
19. Mernette Courderoy Soft Pillow Covers
20. Hofdeco African Mudcloth Lumbar Cover in Orange Arrow
yellow throw pillow covers
And these days I'm loving some small pops of mustard yellow too, and not just for Fall!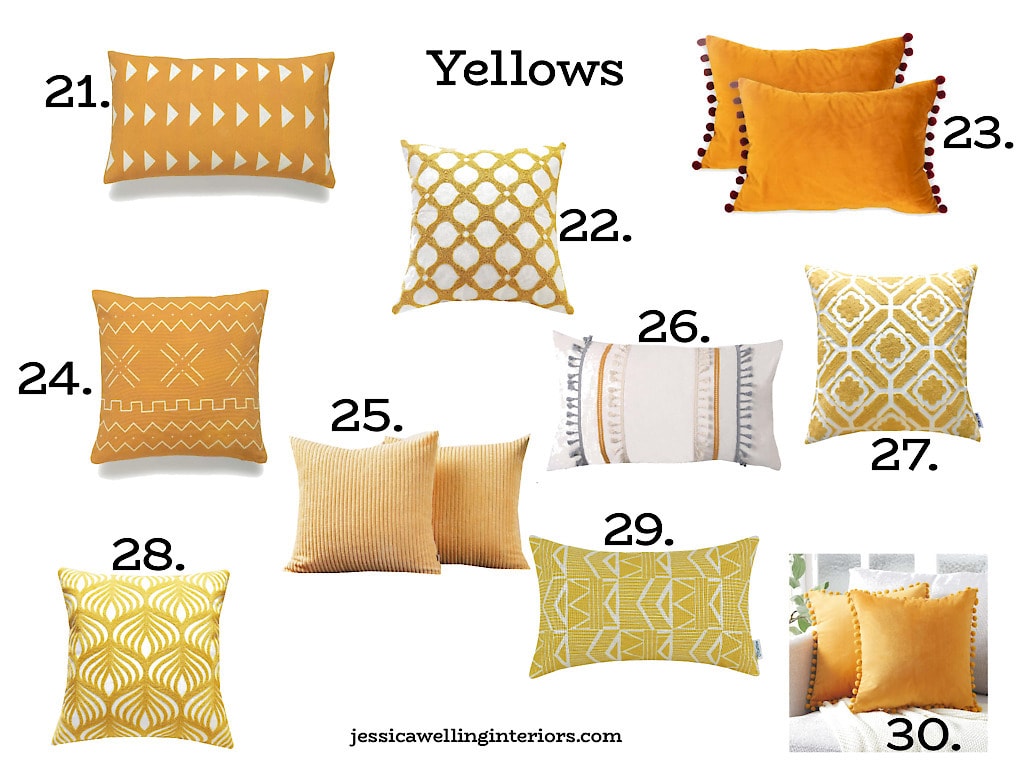 21. Hofdeco Yellow Triangles African Mudcloth Pillow Cover
22. Slow Cow Cotton Embroidery Cover
23. iHogar Lumbar Pillow Cover with Pom Poms
24. Hofdeco Africa Mudcloth Pillow Cover in Mustard
25. Ashler Velvet Courduroy Throw Pillow Covers in Yellow
26. Flbr Boho Tasseled Pillow Covers
27. Slow Cow Embroidered Cotton Throw Pillow Cover
28. Slow Cow Cotton Embroidered Geometric Pillow Cover
29. CaliTime Southwestern Geometric Bolster Pillow Cover
30. Top Finel Decorative Throw with Pom Poms
navy blue throw pillow covers
I know navy blue isn't traditionally a Fall color, but it's a neutral that pairs beautifully with orange and yellow. And it can work for any season! I actually had to cut my list in half because I have too many that I love. I will share the rest in another post. But here are my current favs…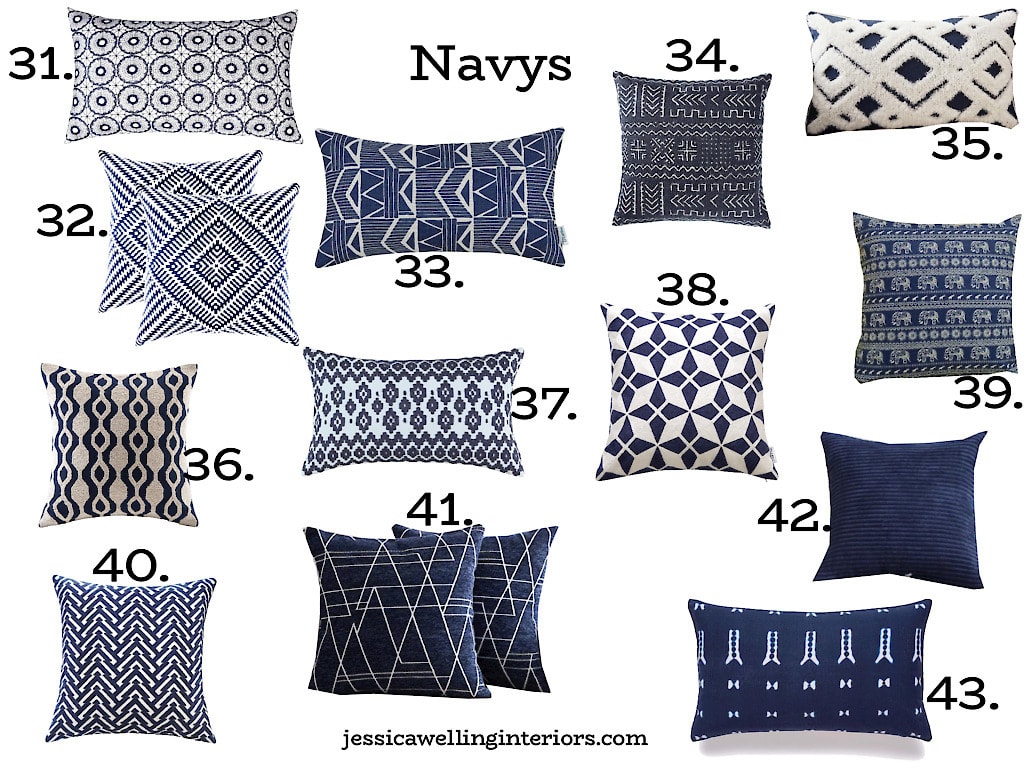 31. Slow Cow Cotton Linen Cushion Cover
32. TreeWool Decorative Square Throw Pillows Set
33. CaliTIme Southwest Geometric Bolster Pillow Cover
34. Acelive Navy Mudcloth Pillow Cover
35. MIULEE Decorative Throw Cover
36. Blue Page Cotton Embroidery Cushion Cover
37. Aitliving Embroidered Empire Geometric Throw Cover
38. Slow Cow Cotton Embroidered Navy Pillow Cover
39. Aimeer Home Decorative Canvas Cushion Cover
40. Slow Cow Embroidered Navy Cotton Throw Cover
41. Muilee Textured Chenille Navy Pillow Covers
42. Home Brilliant Decor Corduroy Chenille Throw Covers in Navy
43. Hofdeco African Mudcloth Lumbar Pillow Cover in Navy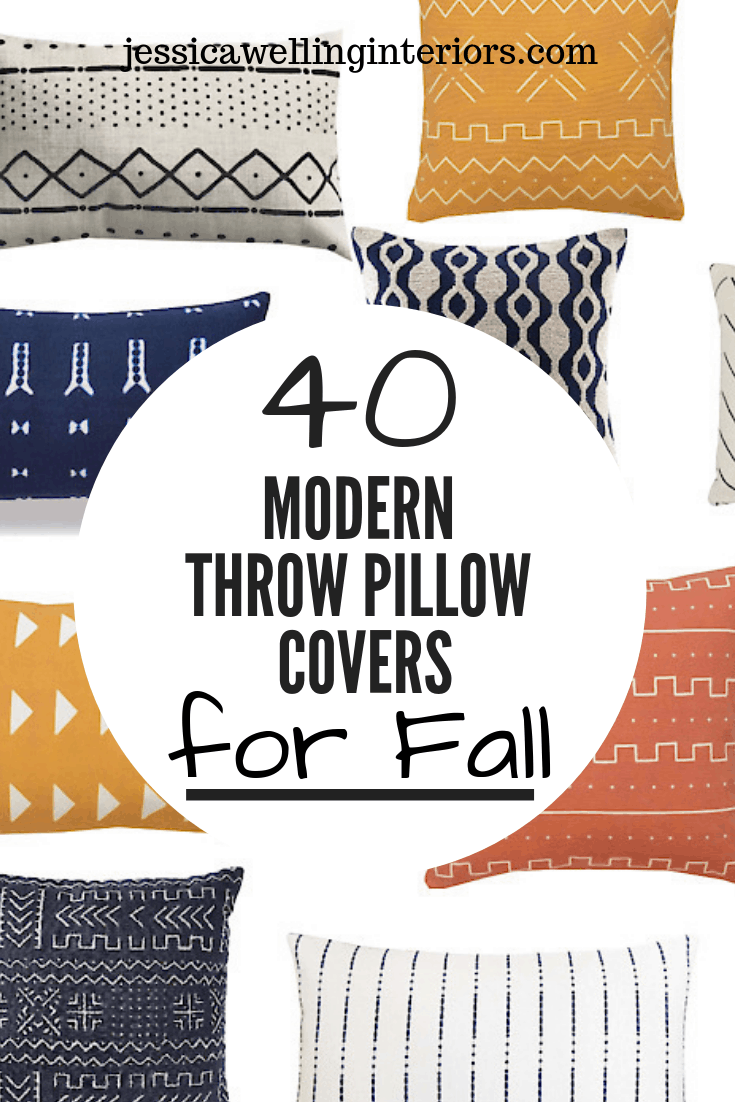 more Fall Decor Ideas…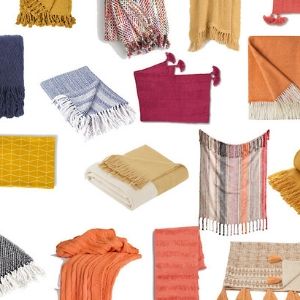 Cozy Up for Fall! Gorgeous Throws to Warm Up Your Living Room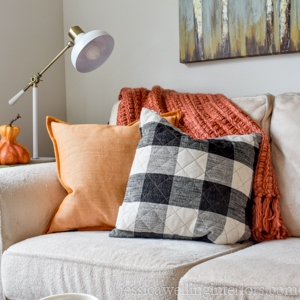 Make a Super-Easy White Pumpkin Centerpiece!