The Best Wax Melt Molds for Every Occasion
A collection of inexpensive silicone wax melt molds for every occasion and season. From squares and hearts to gummy bears and flamingos, and everything in-between.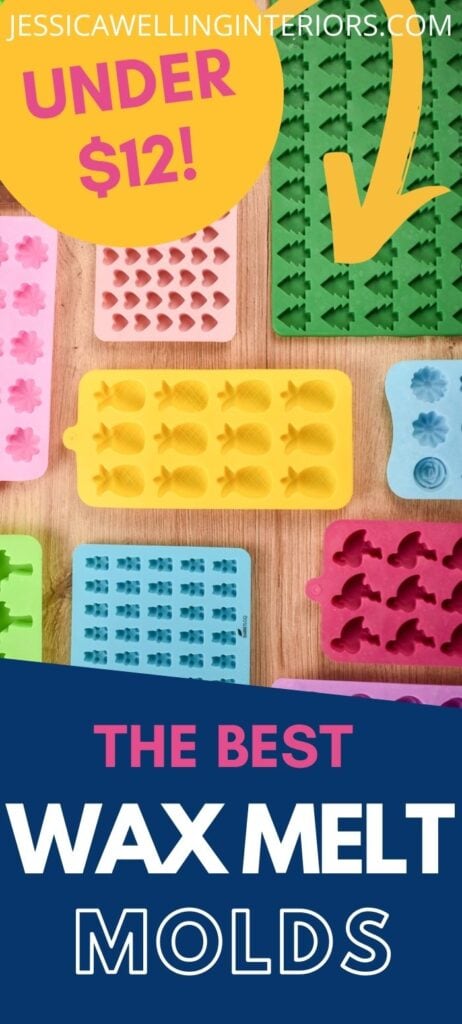 When I started making candles, it only made sense to make wax melts too. They make fabulous gifts and they're the perfect project to use up leftover scented wax.
Or you can skip making candles altogether and just make wax melts.
Making your own wax melts is quick & easy! Here's a simple wax melt tutorial. You can choose whatever candle fragrance oils, wax molds, and colors you like. And the recipe will work with paraffin and beeswax too.
How to Make Wax Melts: Everything You Need to Know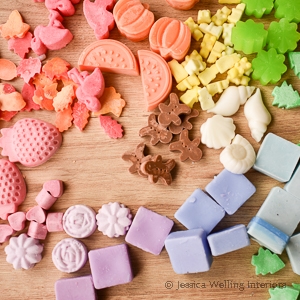 What's the best type of mold for making wax melts?
I like to use silicone molds because the wax never seems to stick and it's easy to pop the wax melts out once they're cooled. I've tested soy wax, paraffin, beeswax, and a few wax blends, and they all work great with silicone molds.
I've also used plastic candy molds and soap molds successfully. Ice cube trays may work too, but it will be more difficult to get the melts out.
If you plan to make a lot of melts, I recommend choosing slightly larger, deeper molds, and getting ones with multiples of the same shape to speed up your process.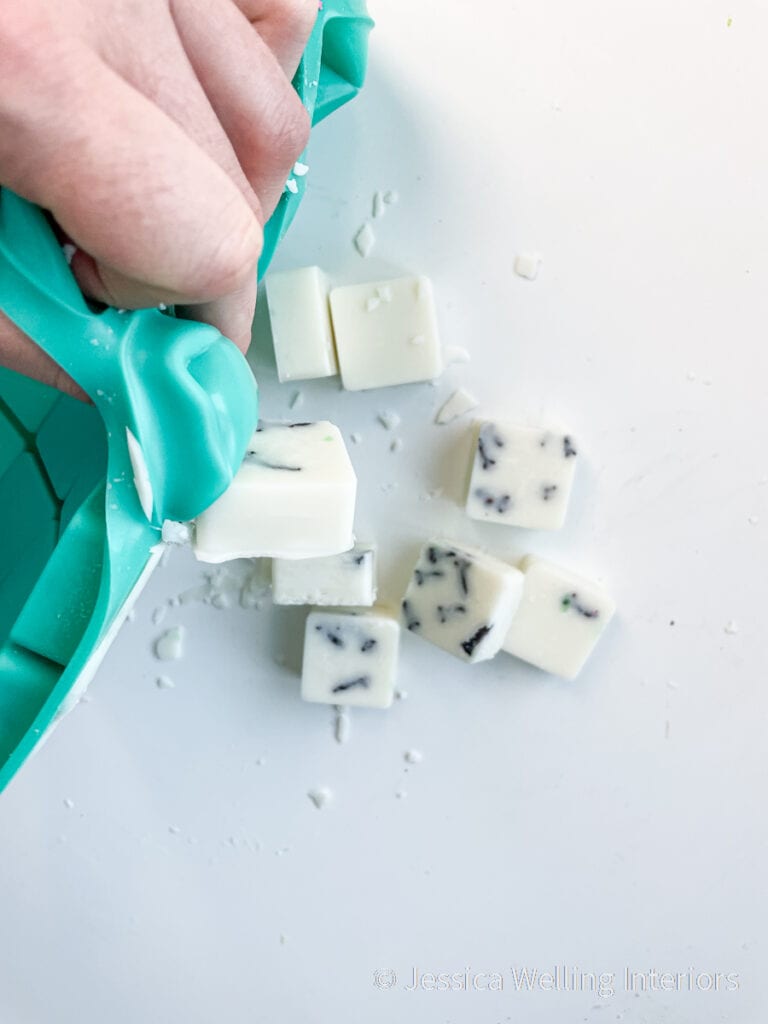 What is the best size for wax melts?
Wax melts can come in a variety of sizes. The important thing is that they're small enough to fit into the melting cup on your wax warmer.
This size is my favorite. I can fit 2 melts into one of the liners for the wax melter, and that seems to be the perfect amount of wax. By the way, I highly recommend using liners. They're inexpensive, can be re-used many times, and prevent a big mess in the melting cup!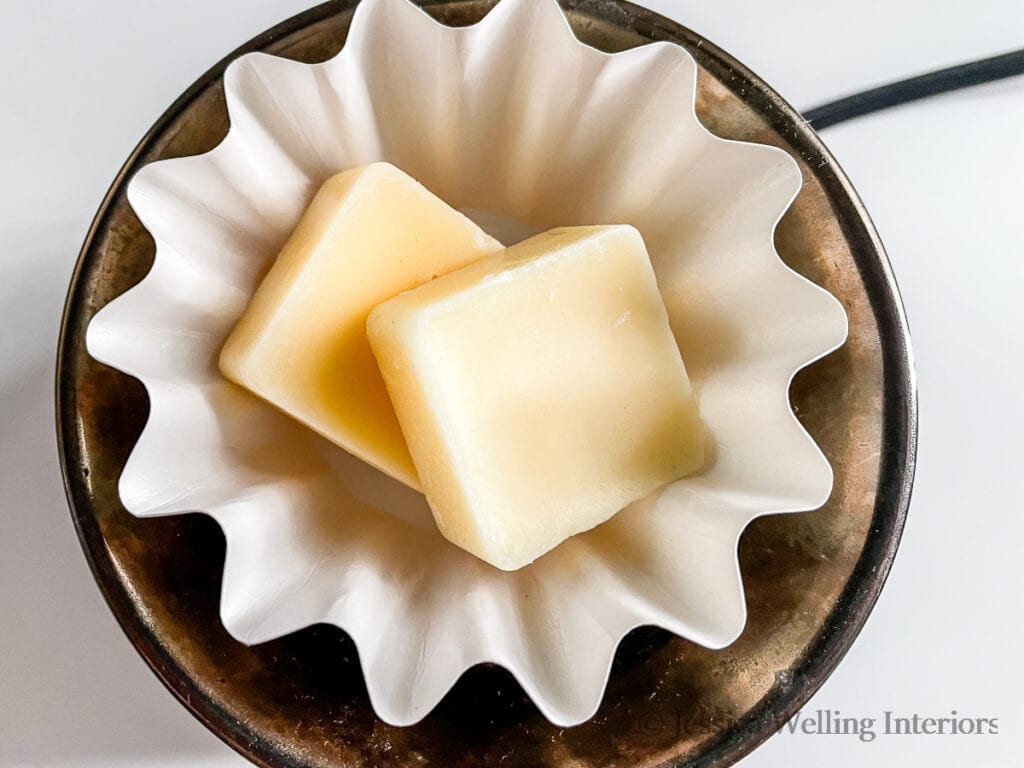 As I was searching Amazon for the perfect wax melt molds, I noticed that a lot of the products available have photoshopped images that really don't give you an accurate idea of the size of the molds.
And most of these molds are actually intended for making candy, which is fine. So I've double-checked that all the molds listed here are appropriate wax melt size.
I've purchased and tested most of them myself, and I'll include photos so you can get a better feel for the size of wax melts they turn out.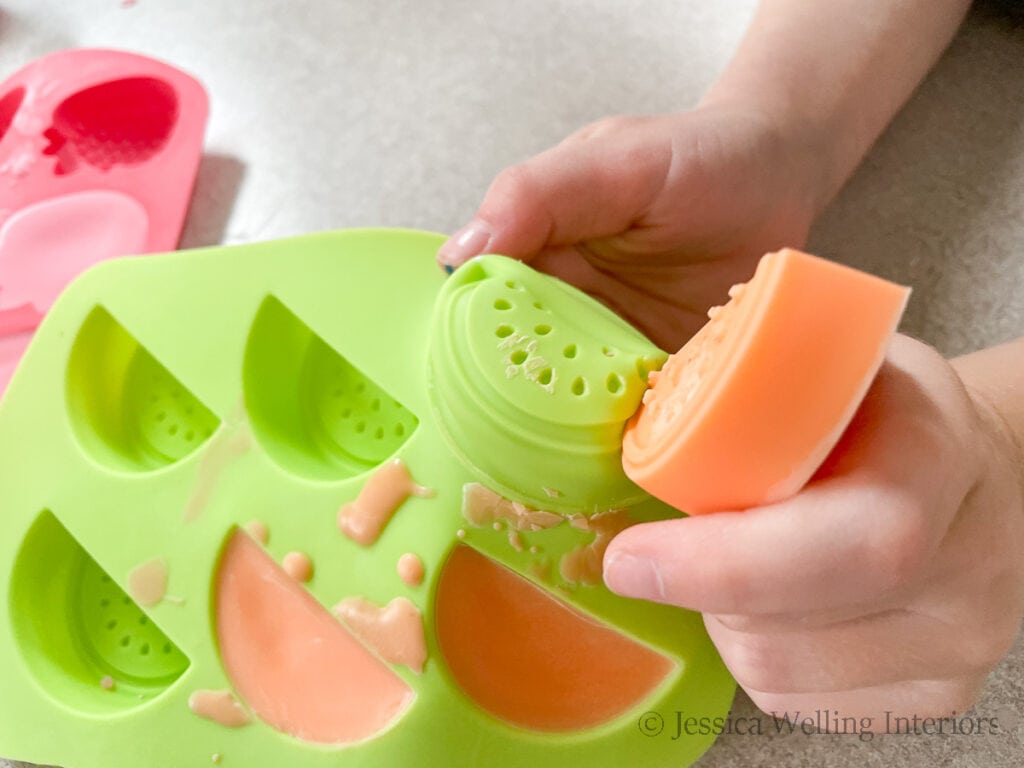 Wax Melt Clamshells
Most commercially made wax melts are poured and sold in wax melt clamshells like the ones below. The melts break apart along the lines when you're ready to use them.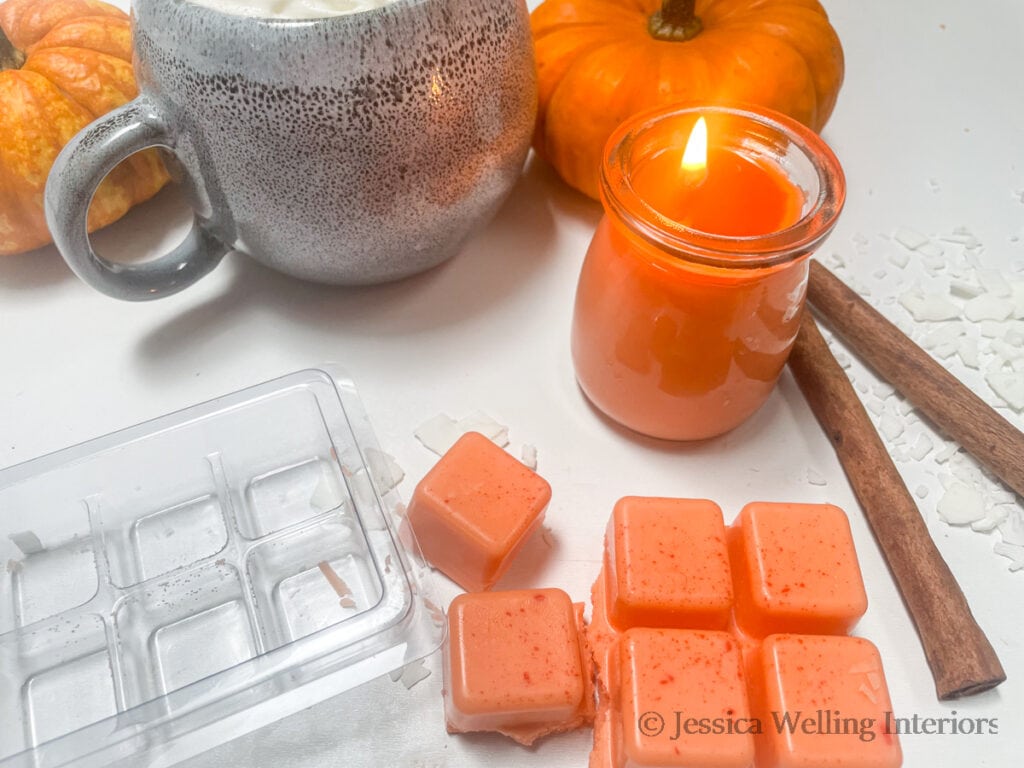 One of the benefits of these is they provide both the mold and the packaging for the wax melts. They also keep them sealed up and prevent the fragrance from dissipating over time. They generally come in four or five different shapes- cubes, hearts, stars, and circles.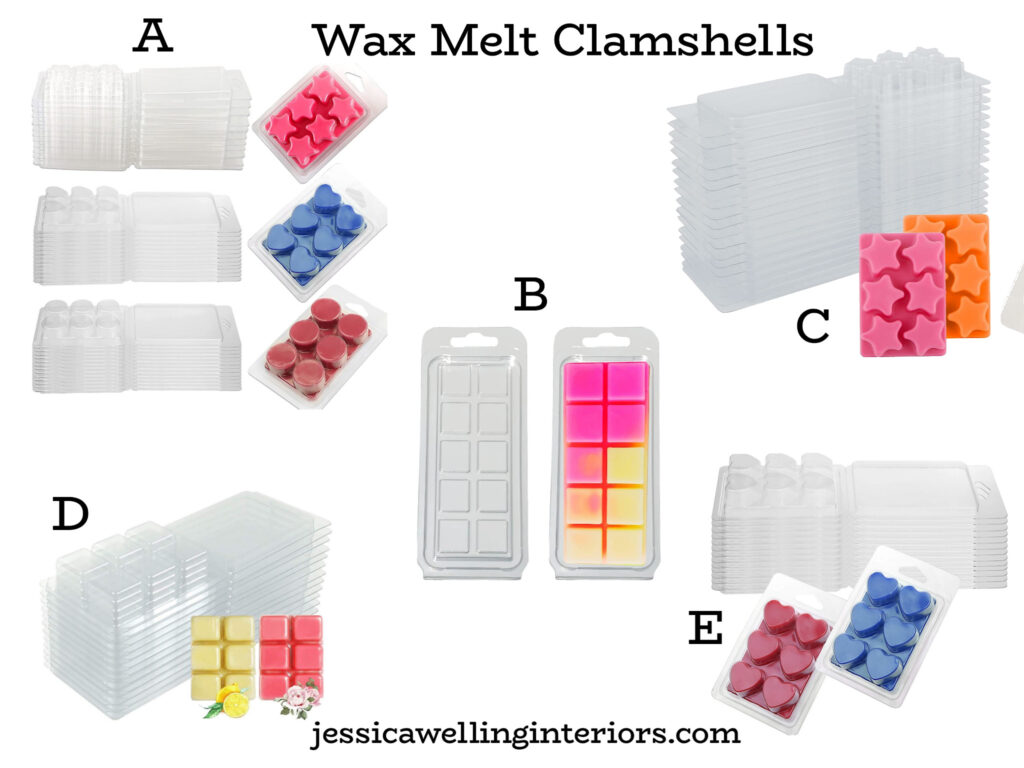 A. Wax Melt Clamshells Variety Pack with Hearts, Stars & Circles, from Amazon
B. 50 Pack of 10-Cell Clamshell Wax Molds, from Amazon
C. Star Shaped Wax Melt Clamshells, from Amazon
D. 100 Pack Clear Empty Wax Melt Clamshells, from Amazon
E. Heart-Shaped Clamshells for Wax Melts, from Amazon
Basic Shapes
Basic-shaped wax melt molds are perfect if you're just getting started! Simple shapes like squares, circles, or ovals are perfect if you want to add inclusions like flowers or the cloves in these orange clove soy wax melts.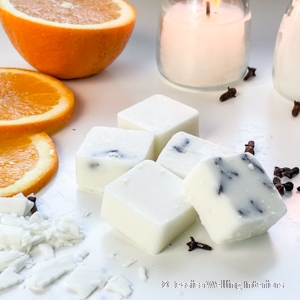 They're very versatile and you can make your melts festive for different occasions and seasons with bits of candy cane, glitter, small flowers, petals, bits of dried orange peel, herbs, etc. I got this multi-pack of different varieties of dried flowers from Amazon.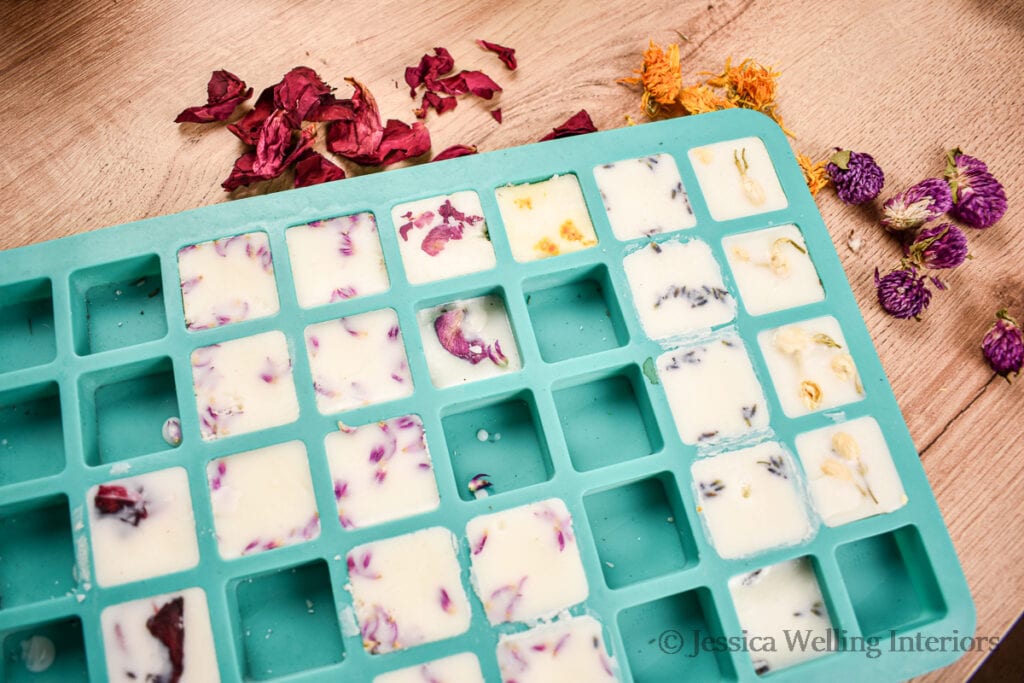 You can also use candy bar molds to make scented wax bark (tutorial coming soon!). But really it's exactly the same as making traditional wax melts.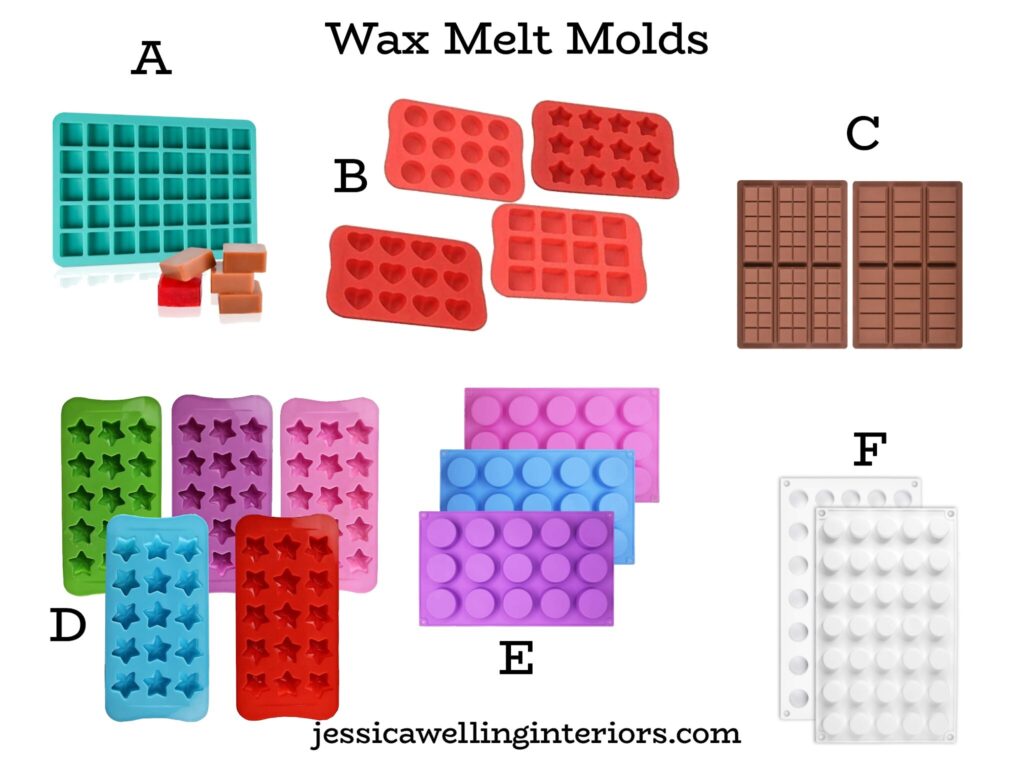 A. Squares (this is the one in the photos above & it's my favorite!)
B. Combo- Circles, Squares, Stars & Hearts
E. Circles
F. Small Cylinder Circles (I used this one to make these candy cane wax melts)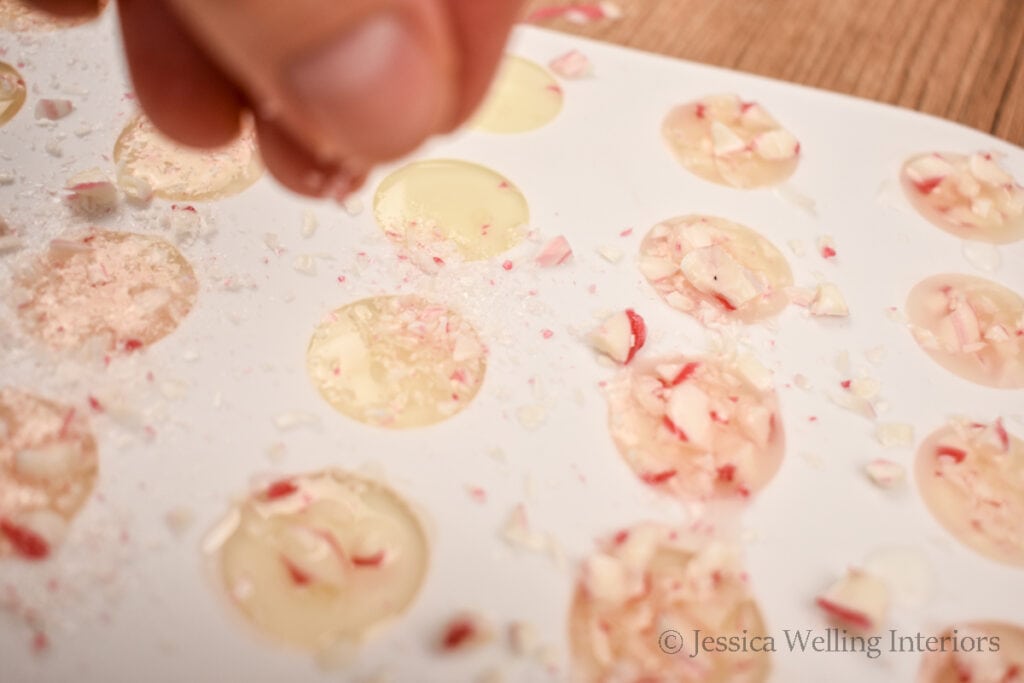 Christmas Wax Melt Molds
Homemade wax melts are perfect for scenting your home for the Holidays- and for gifts too! These fun Christmas trees, stockings, gingerbread men, snowflakles, etc. will make some fun festive melts!
I just made Christmas Tree Wax Melts with the mold below and Juniper Fir & Balsam Spruce fragrance oil from Makesy. This Christmas tree mold is great because it's large and you can mass-produce the melts.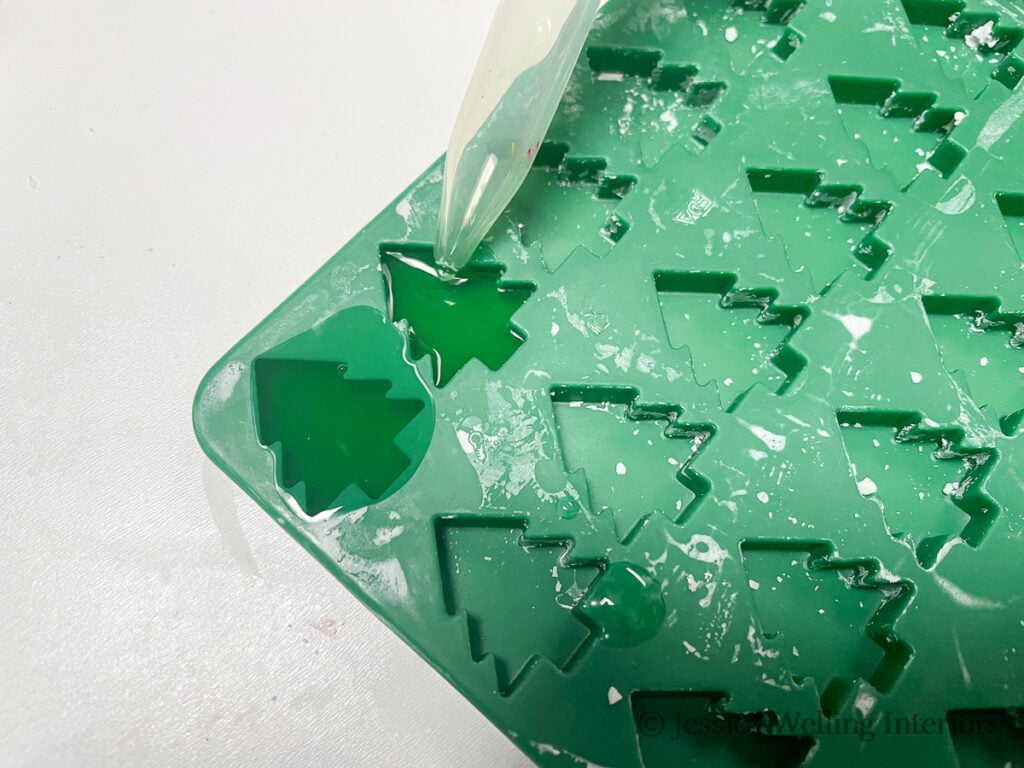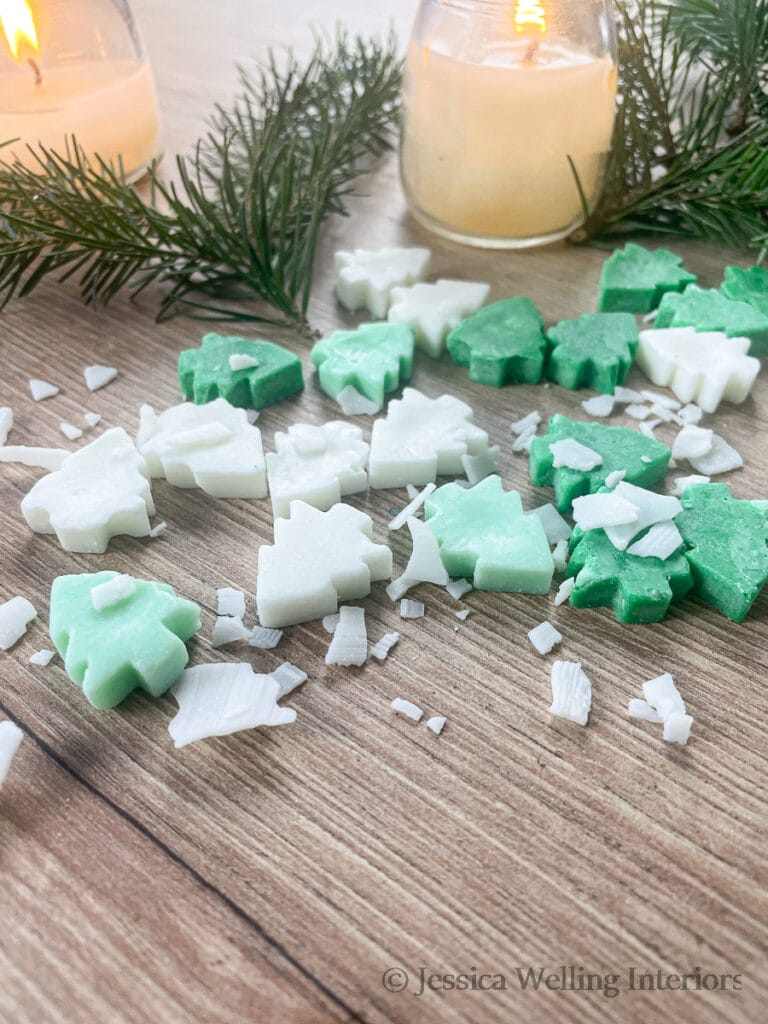 And here are some melts I made using the gingerbread mold (E below) and Warm Gingerbread & Masala Chai fragrance oil from Makesy.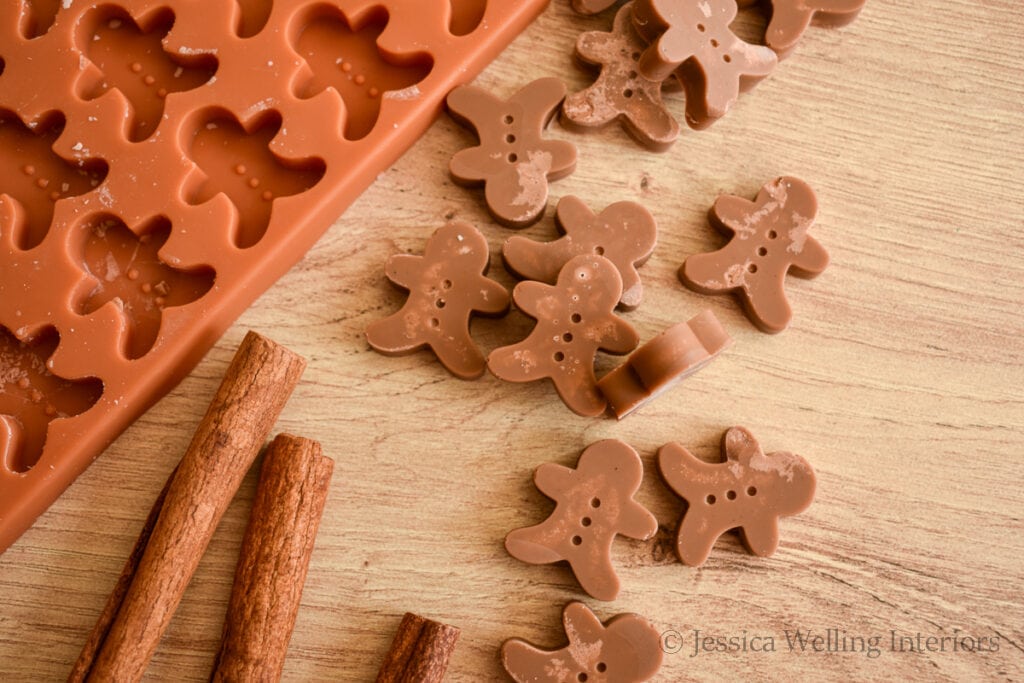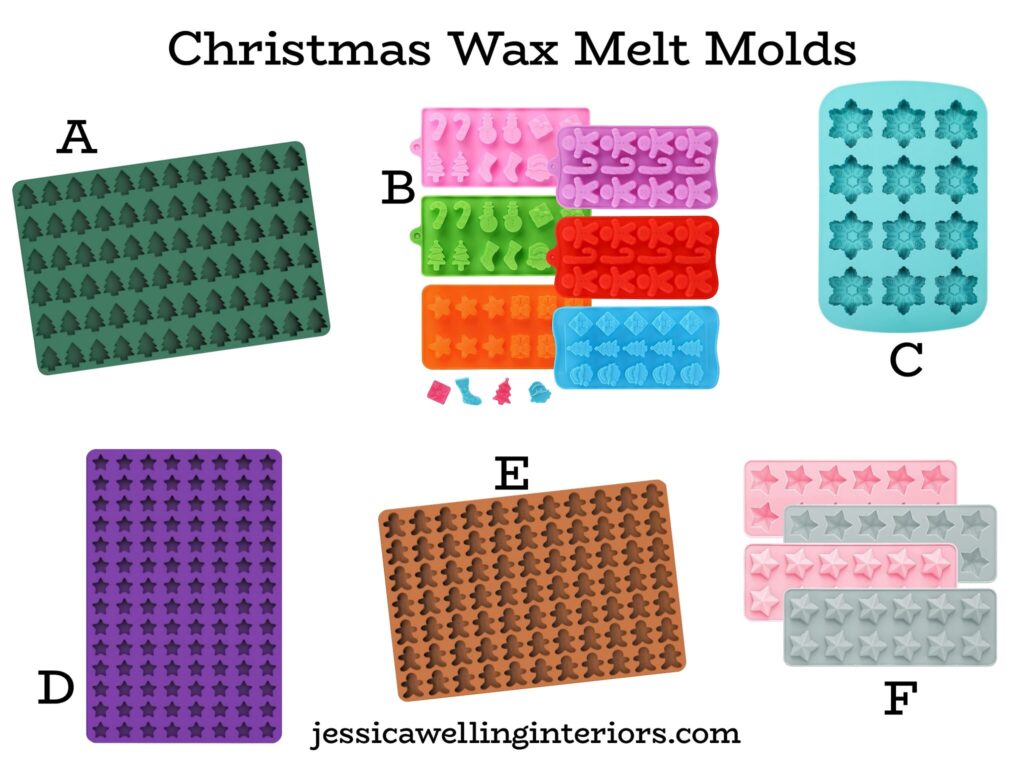 B. Combo Pack- Christmas Trees, Santas, Gingerbread Men, Candy Canes, Snowflakes, Stockings, Etc.
D. Mini Stars
F. Stars
Flower Wax Melt Molds
These pretty flower-shaped wax melt molds are perfect for spring and summer… and any floral scents you want to try, like lavender, rose, lilac, etc.
My 7-year-old daughter made these wax melts with the molds from set A below, soy wax, and Orchid & Black Amber Fragrance Oil, from The Wooden Wick Co.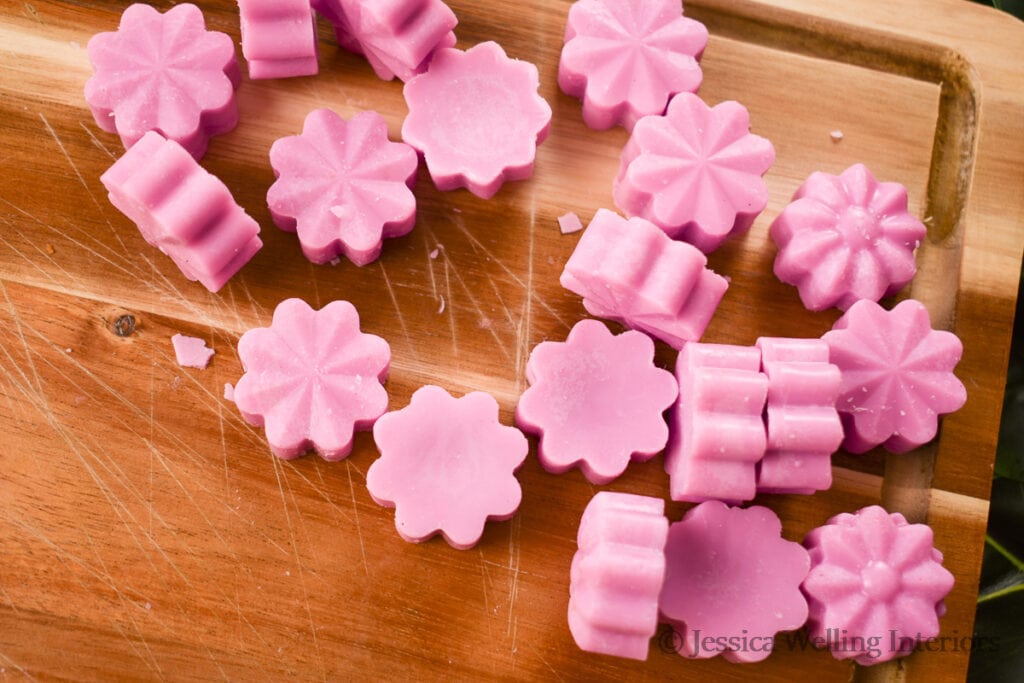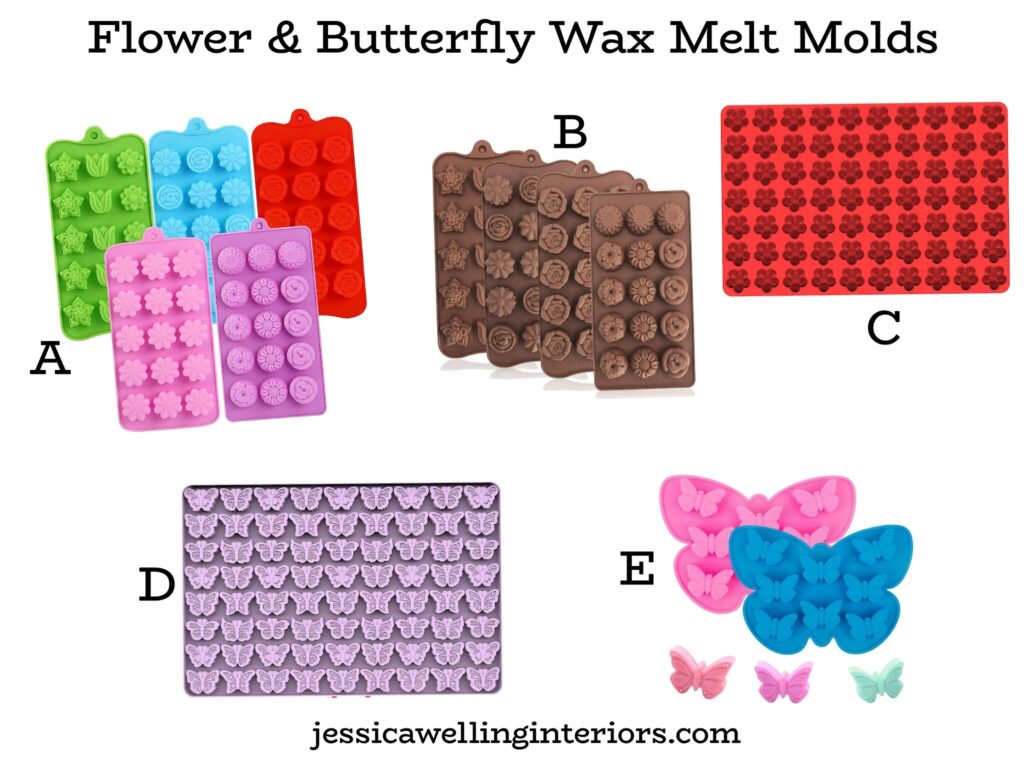 C. Silicone Flower Wax Melt Mold
E. Butterflies
Fall Wax Melt Molds
Fall scents are the best! And even better if your wax melts are shaped like pumpkins or ghosts!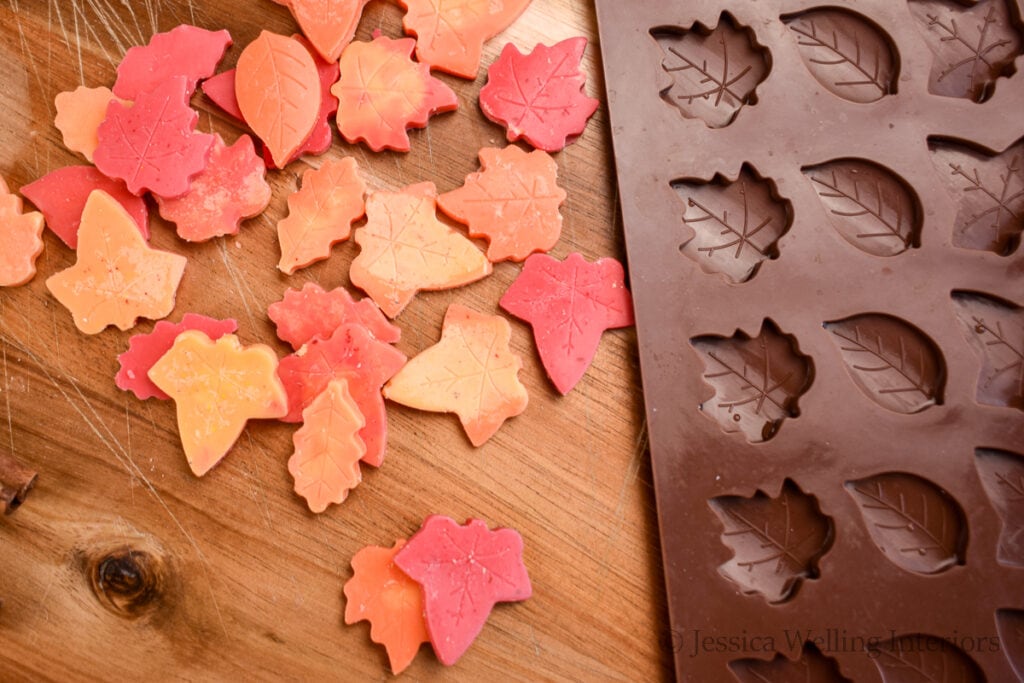 I used these leaf molds (from A below) to make the wax melts in the photo above.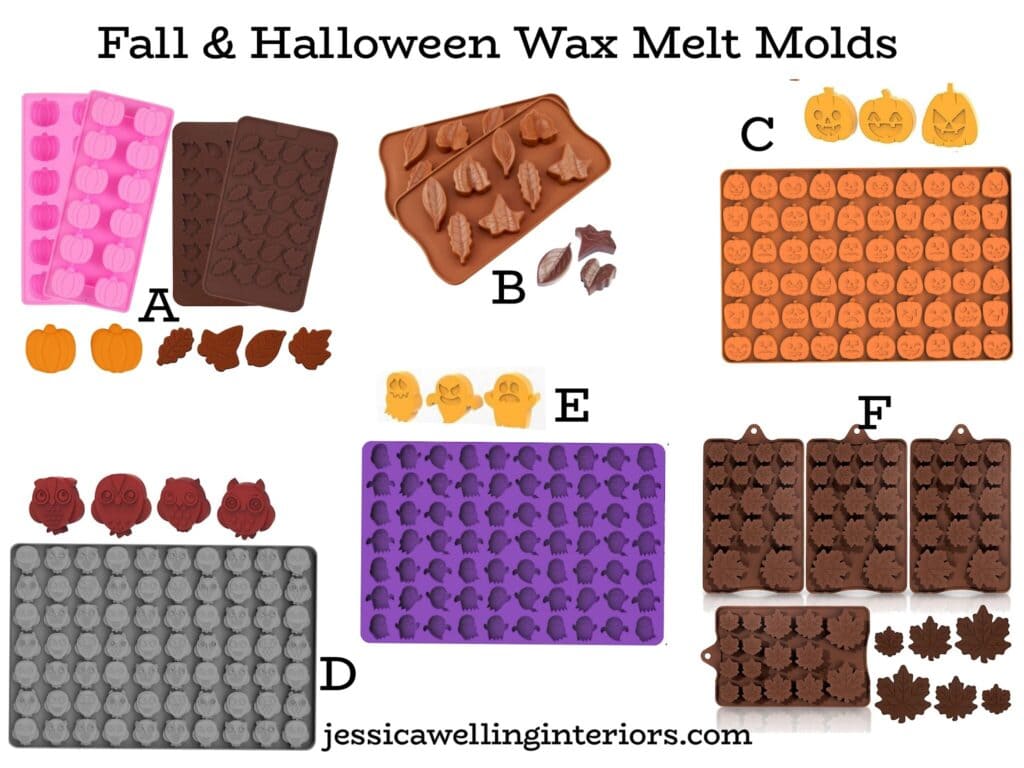 A. Leaves & Pumpkins (see the leaves in the photo above)
C. Pumpkins (I used this mold in this pumpkin spice wax melts tutorial)
D. Owls
E. Ghosts
F. Maple Leaves
Valentine's Day Wax Melt Molds
February is kind of a long and dreary month around here, so I love using sweet heart-shaped wax melts to cheer things up.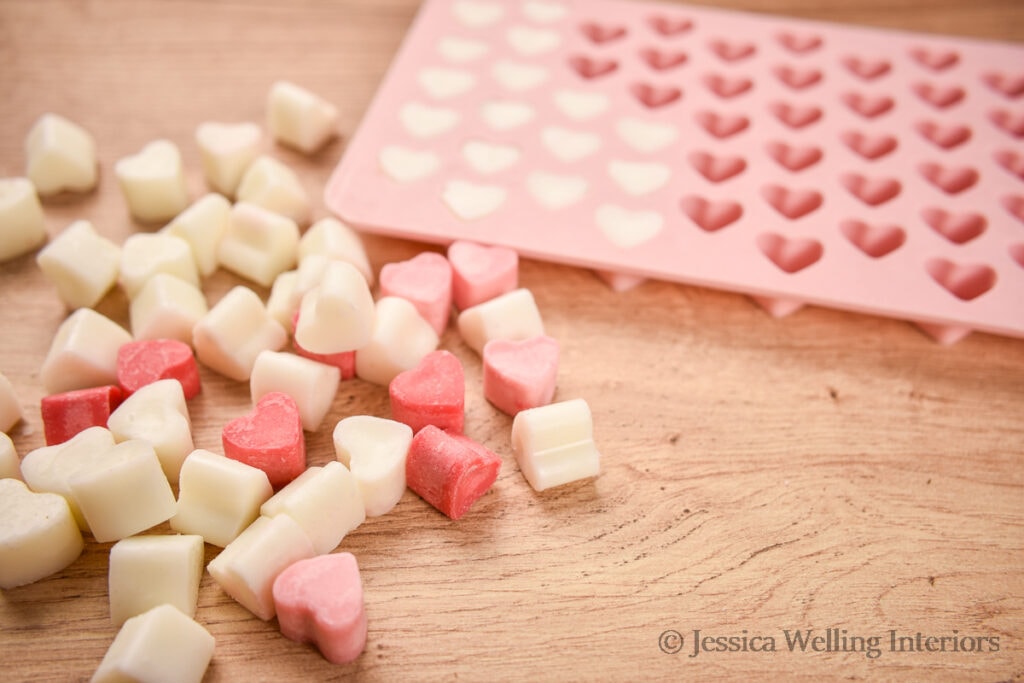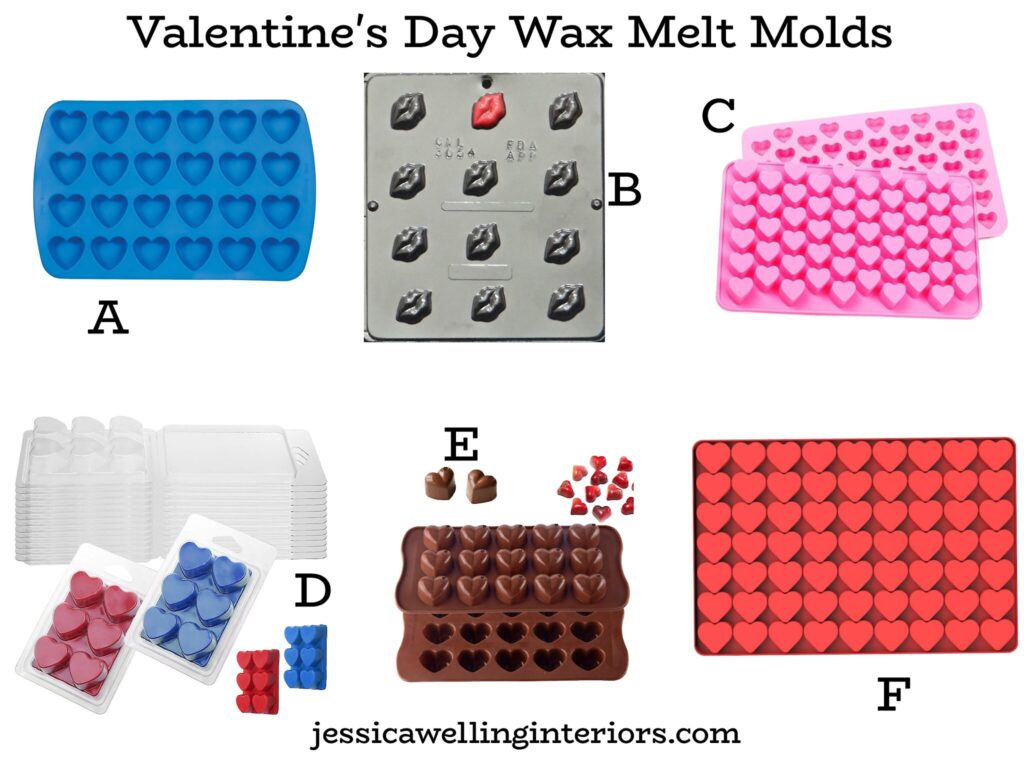 Gummy Bear Molds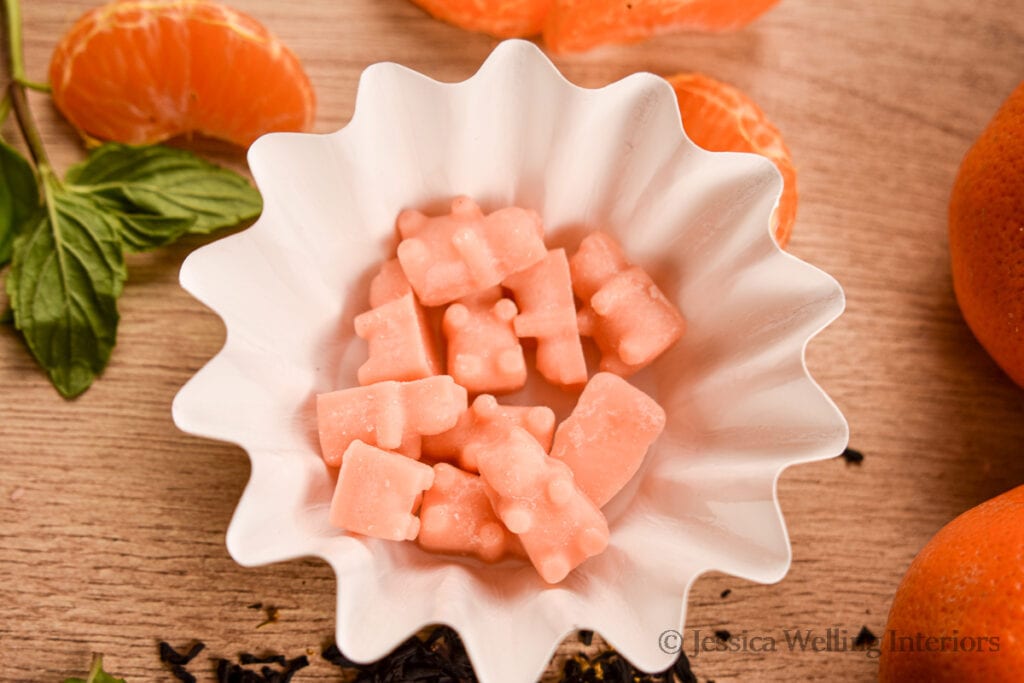 Silicone gummy bear molds are very popular for making wax melts. Small molds like these will require a pipette to get the hot wax in place without making a big mess. And I've found some other fun animal shapes too! Frogs, anyone???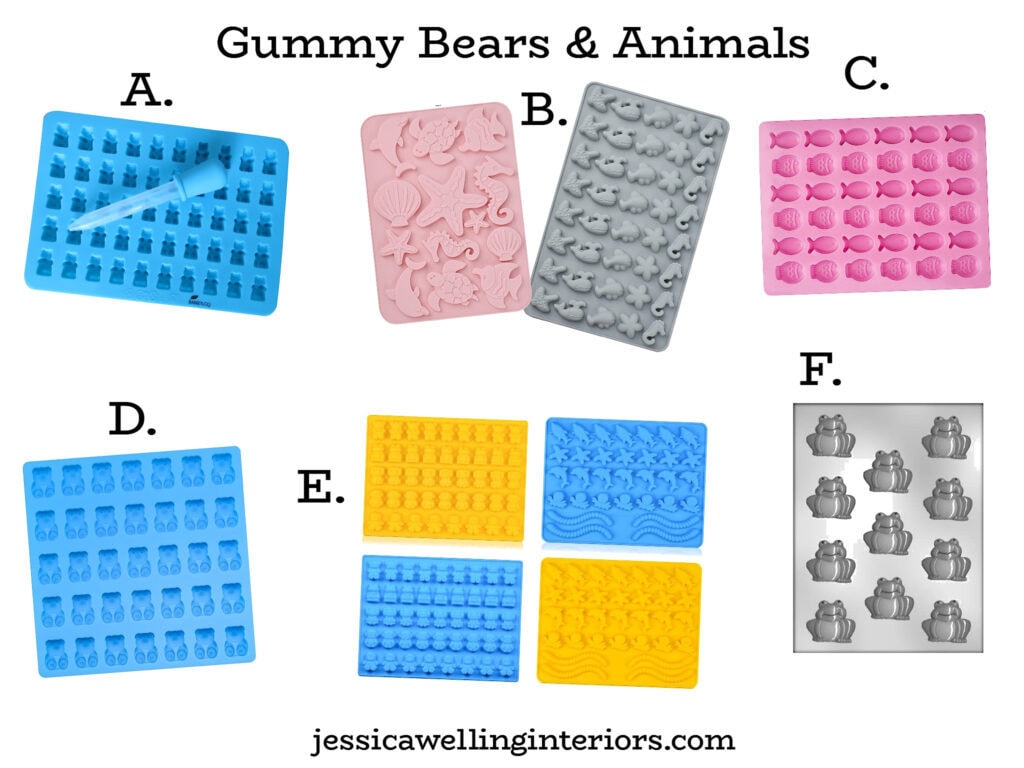 A. Traditional Gummy Bear Mold (This is the set I used to make the bear wax melts in the photo above).
Animals & Fun Shapes
I couldn't call this list complete without some more fun shapes. I've been itching for a reason to make flamingo-shaped wax melts, so I made these Pink Sands-scented melts in bright pink!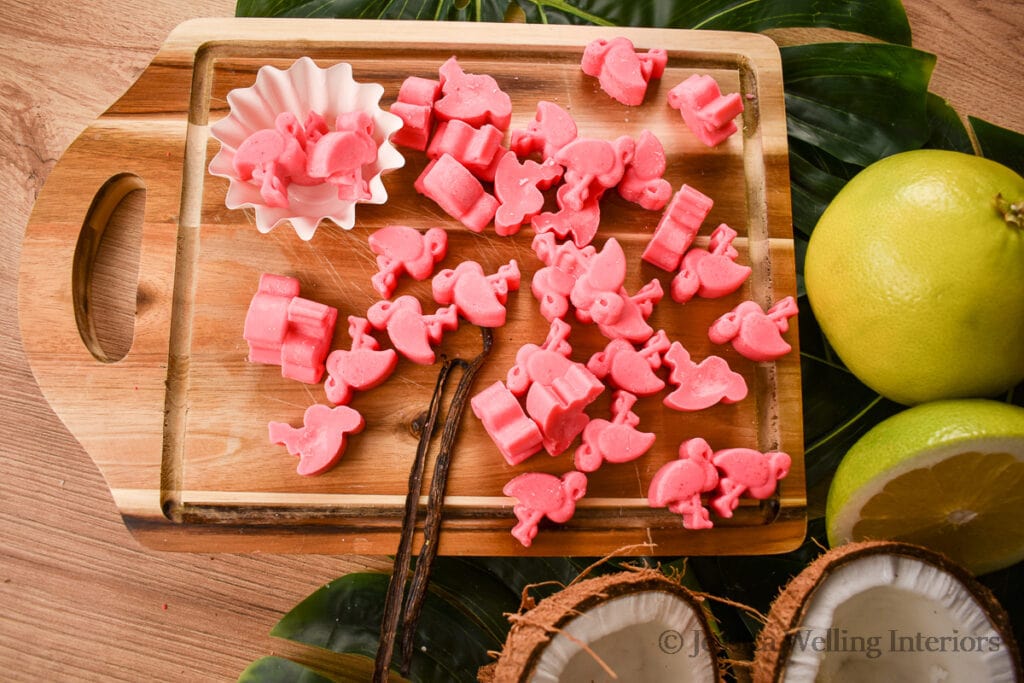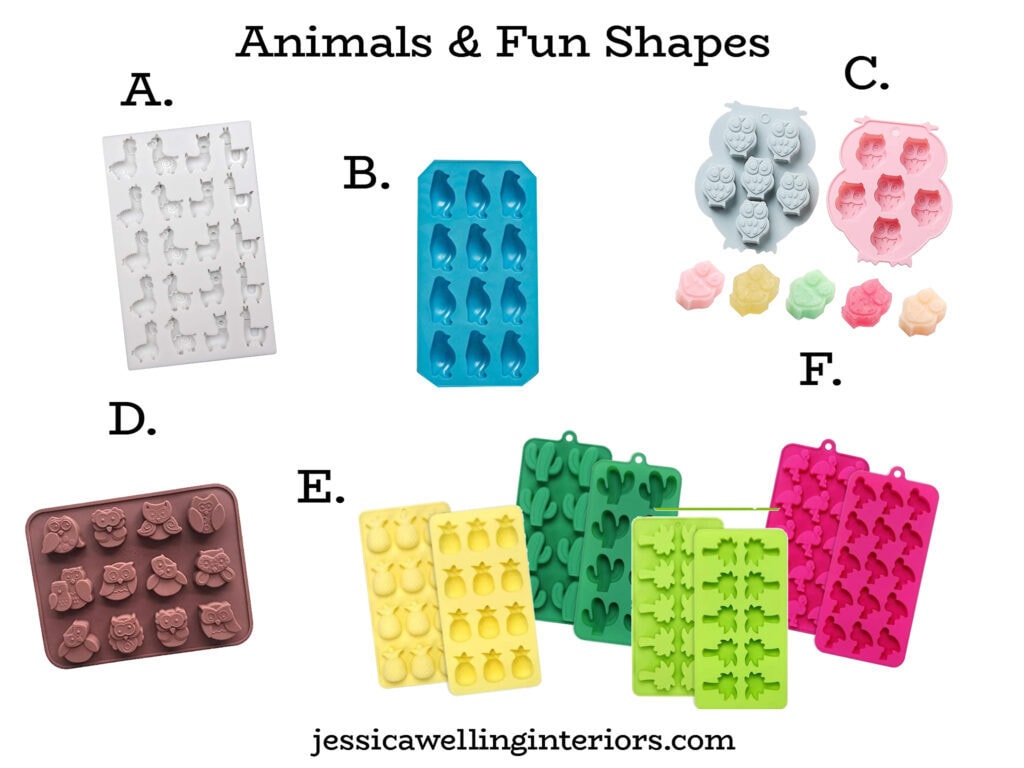 E. Fun Party Shapes- Flamingos, Palm Trees, & Pineapples (Note: the cactus mold in this set doesn't work well for wax melts, but we've had success with all of the other shapes in the set.)
Shells & Sea Creatures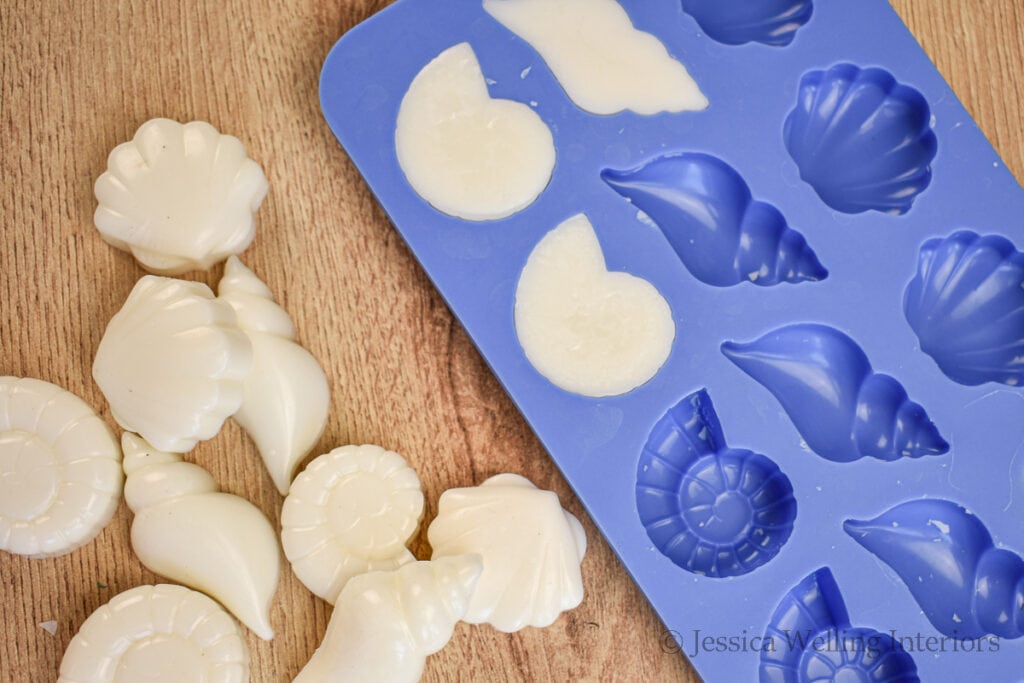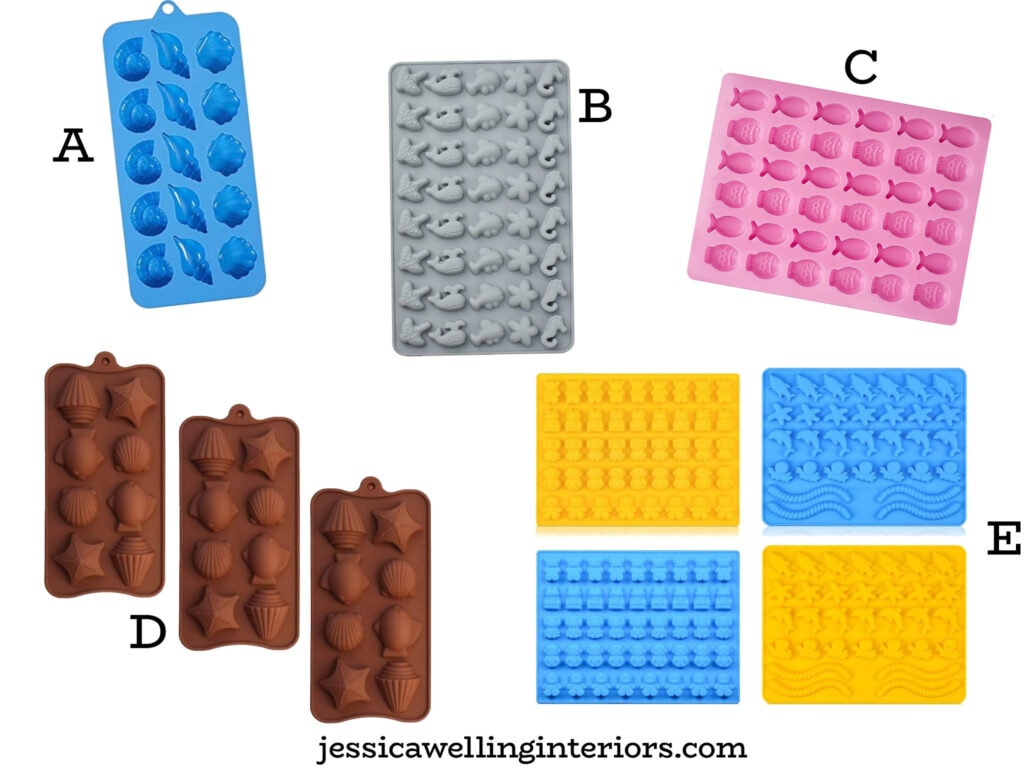 I hope you've found something here you love!
More DIY Wax Melts & Candles…
How to Make Soy Candles: A Beginner's Guide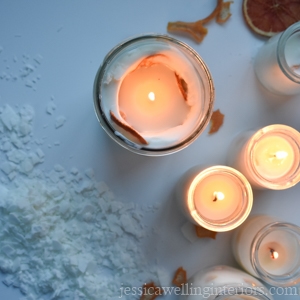 The Best Wax Melters On A Budget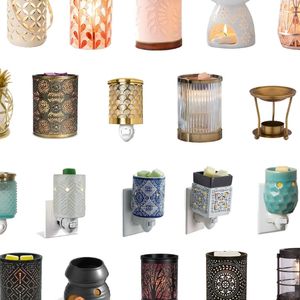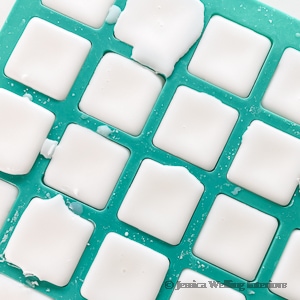 The Best Fragrance Oils for Candles (That Actually Smell Good!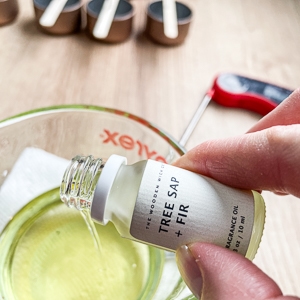 Easy Orange Clove Soy Wax Melts