Small Laundry Room Makeover!
This small laundry room makeover uses every inch of space! It features a stacked washer and dryer, an awesome IKEA hack, and pegboard storage.
I can't wait to show you our small laundry room makeover! It is revolutionizing our laundry process… and making so much less clutter in the hallway. Now if the laundry would just fold and put itself away we'd be all set!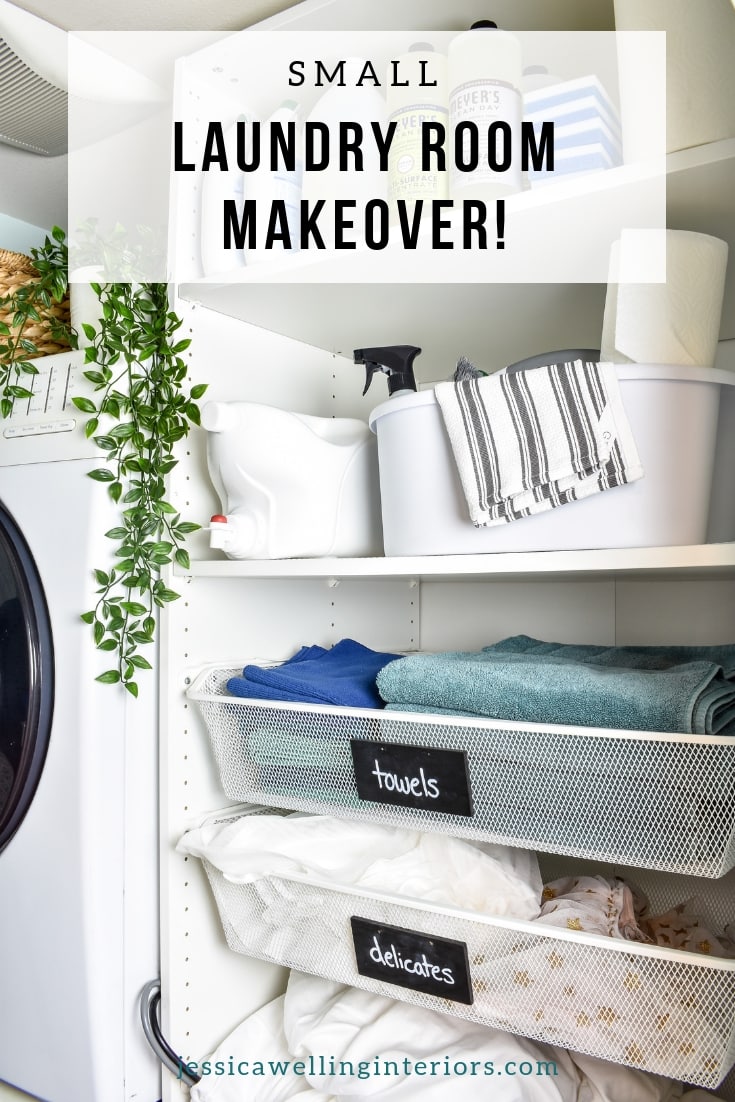 Before…
This was before… a really basic setup with the washer and dryer side-by-side, and a single wire shelf above them.
The problem? There wasn't really room to even put a laundry basket on the floor. And if we did manage to shove one in, we couldn't open the washing machine door.
Another issue was the MDF baseboards were starting to disintegrate, since our washer was overflowing a lot… like every time I did a load of towels.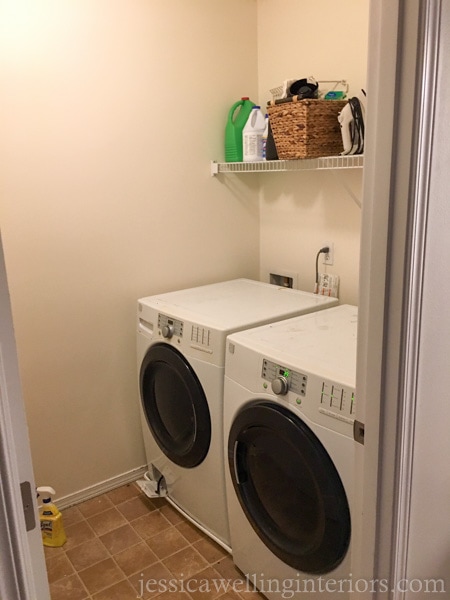 My people are messy, so we do a LOT of laundry. Next to the kitchen, this is probably the hardest-working room in our home.
And it's really small.  So we needed to make the most of every square inch. The solution? Go vertical!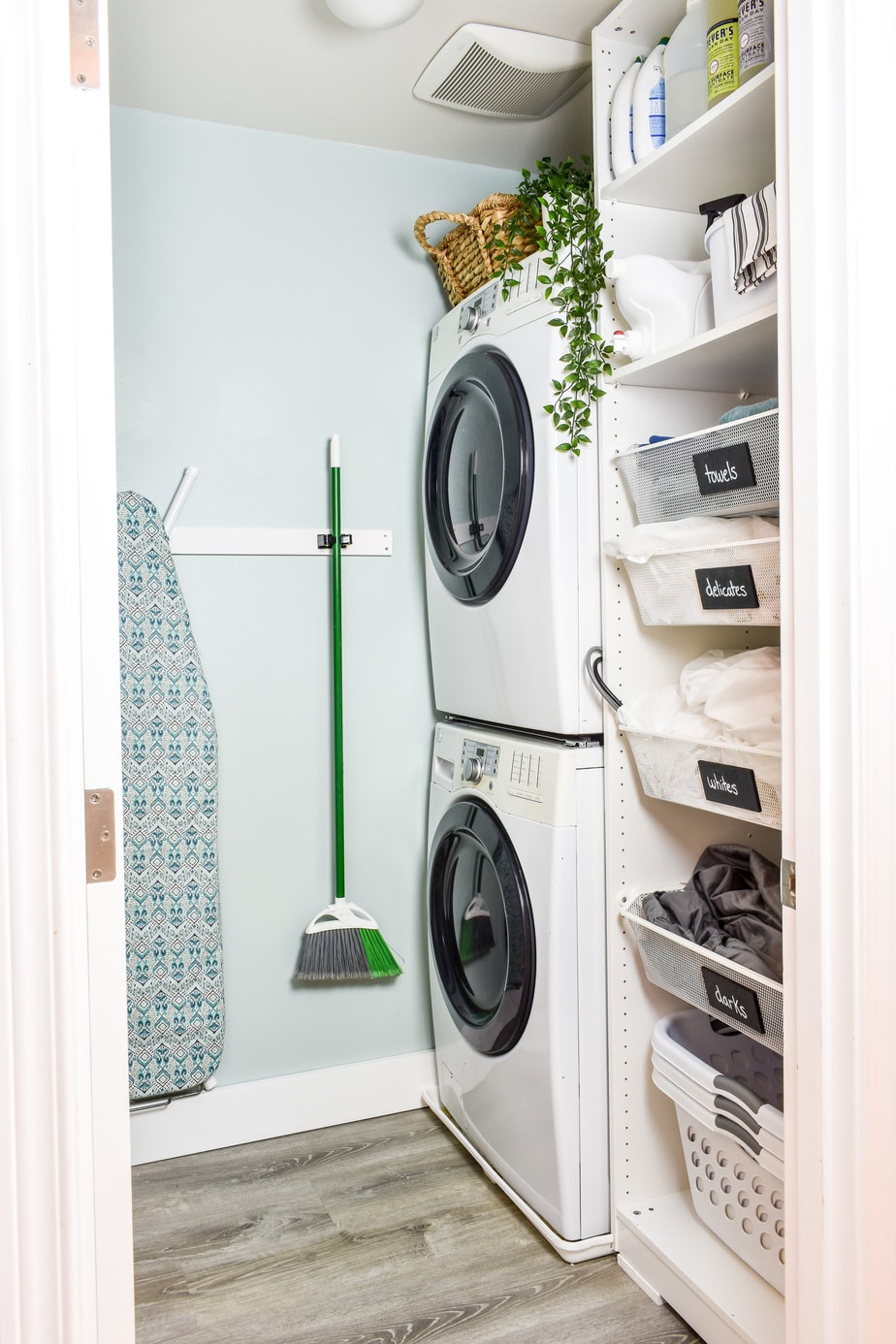 Fresh Paint
I wanted a fresh and clean feeling in here, so I chose a light blue-green-grey paint.
New Flooring & Baseboards
I love using wood-look luxury vinyl plank flooring these days. It's completely waterproof, which is perfect for a wet-ish laundry room. We also installed simple 5″ waterproof baseboards.
We still need to add a line of caulk, and that ought to solve our water problem. Also turns out I was using waaaay too much detergent…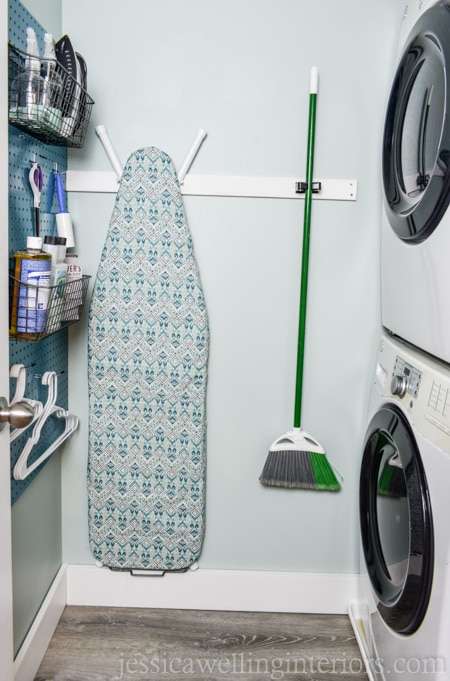 Stacked Washer & Dryer
This was the first step toward freeing up some under-used space. Our set is older, so it took some sleuthing to find a compatible stacking kit.
The laundry room is on the second floor of our house, and when the washer and dryer were side-by-side, there used to be this really loud thump-thump-thump-thump that would last several minutes.
It would scare the kids and rattle the whole house (thus none of my pictures hang straight on the walls).
Anyway, for some unknown reason the thumping and shaking has stopped since we stacked them. I'll take it!
Shelving
I love a good IKEA hack- probably a bit more than the next girl. So I was really excited when I discovered an IKEA PAX wardrobe system unit that fit perfectly between the stacked washer and dryer and the wall.
This is one hard-working, multi-functioning unit! We installed shelves at the top to store cleaning supplies and laundry detergent.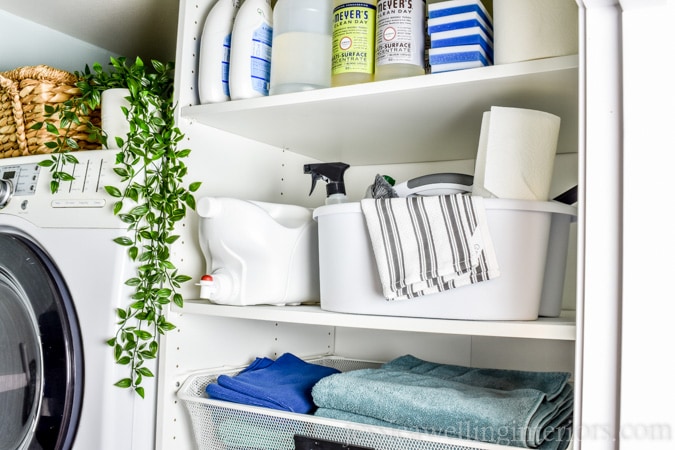 My original plan was to use all shelves and put a laundry basket on each one to sort dirty laundry. But there was a mix-up at IKEA's will-call desk, and we ended up with these wire mesh basket drawers instead. It was a happy accident, because I think this is a much better solution.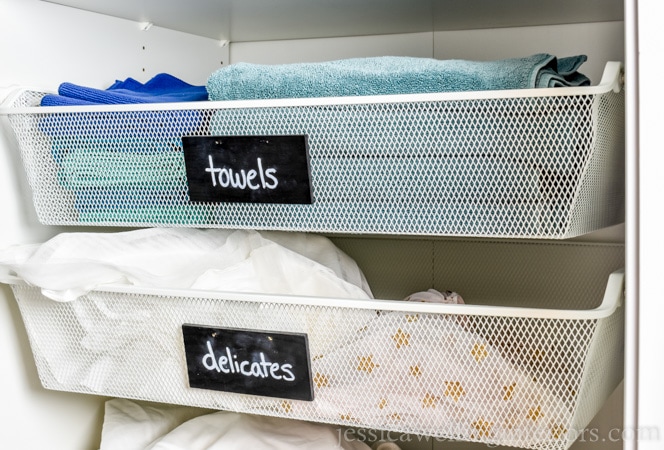 I made these wood chalkboard labels for the drawers. They're helping us keep things straight. You can see how to make the labels here.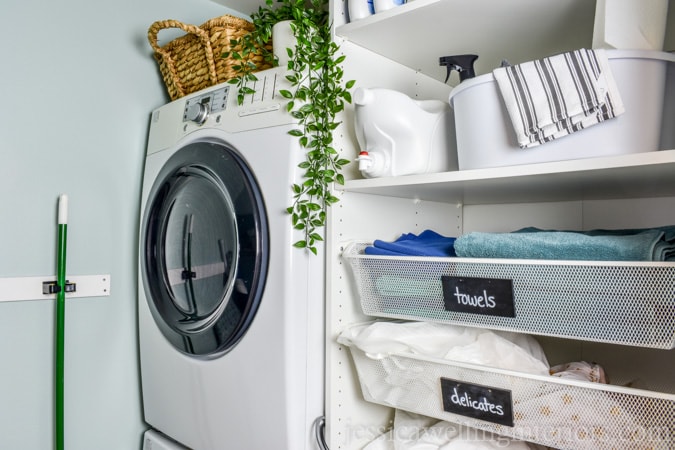 Laundry Basket Storage
If I'm perfectly honest, the laundry baskets sit in the kids room waiting for them to put their clean clothes away… sometime for a week at a time.
But I'm trying to at least plan for us to be tidy and on top of things. So I planned a spot to store the empty baskets at the bottom of the shelving unit… and they occasionally make it back there before laundry gets done the next week.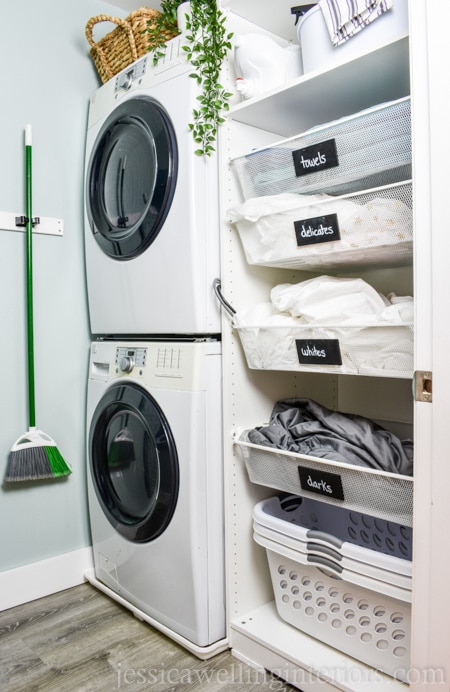 Ironing Board
Before, we kept the ironing board leaned up against the wall. It was always crashing over and one time I couldn't open the door to the laundry room because it had wedged itself in.
So we definitely needed a place to store it. We decided to mount the ironing board and the broom on the wall, so they would be up and out of the way.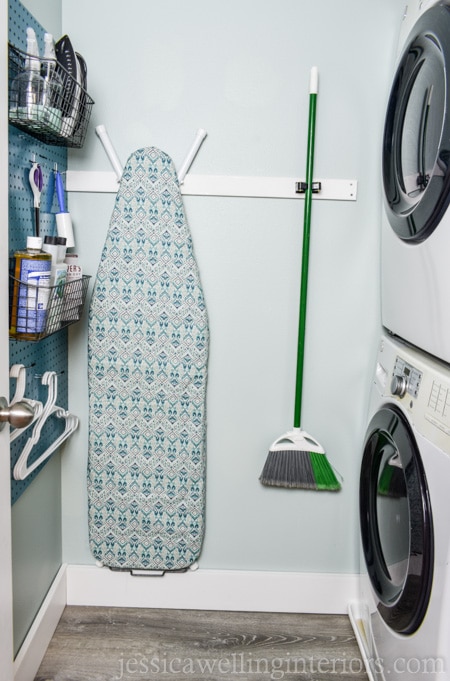 Pegboard.
I've always wanted a pegboard in my laundry room. Mostly because there are a lot of small items that can get lost when they fall behind the dryer. We cut the pegboard to size, I spray painted it, and we mounted it to the wall on 3 scrap pieces of baseboard.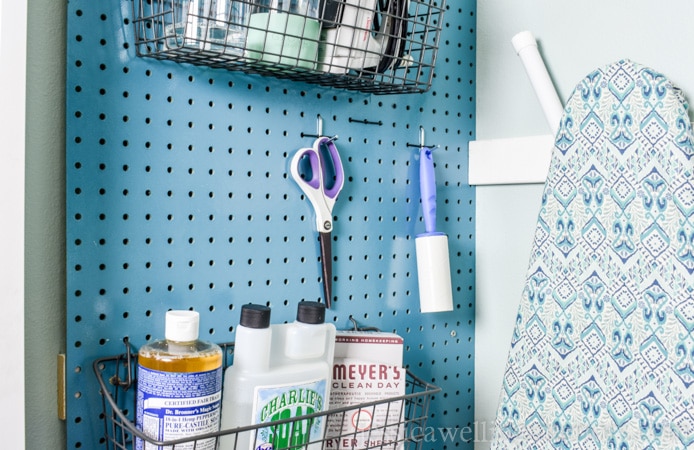 I'm loving these pegboard baskets! The most important thing they hold is the iron, but as you can see they're also a great spot to keep spray bottles, stain remover, specialty detergents, dryer sheets, and bags for washing delicates. My basket that holds the iron is 5″ deep (front to back). I also used these pegboard hooks. The variety pack is nice because you can hang hangers, scissors, bags, and whatever you need.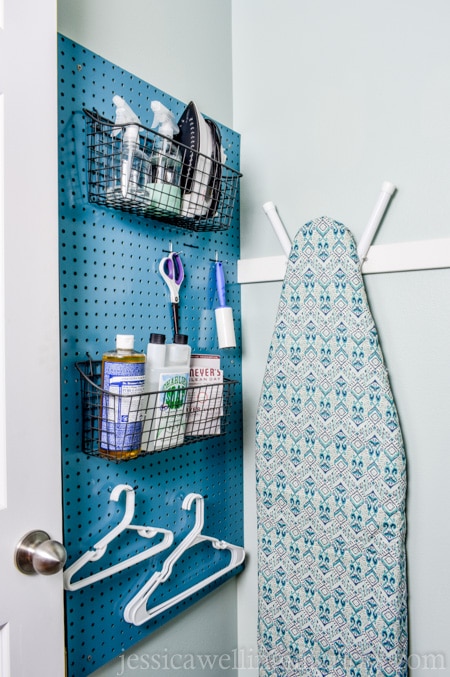 And there you have it! With some thoughtful planning, you can make any space work better for you and your family!
Did you enjoy this post? Please share the love and pin it!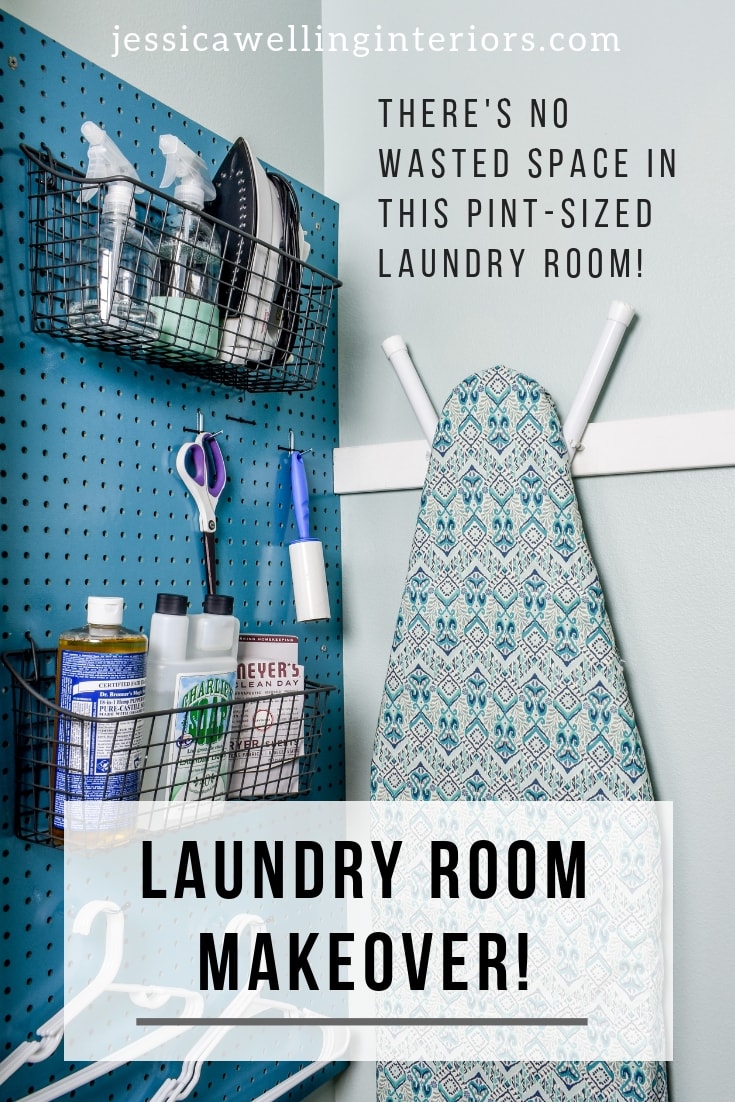 More Home Organization Ideas…
12 Clever Space-Saving Laundry Room Hacks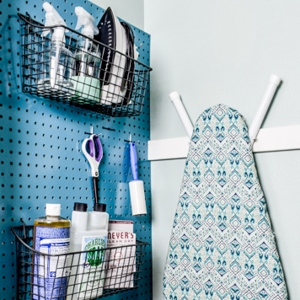 Organize Kids' Clothes for School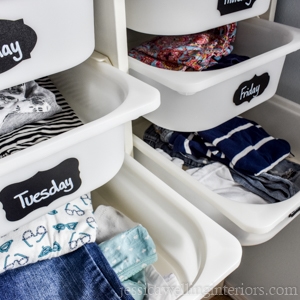 Easy Painted Chalkboard Labels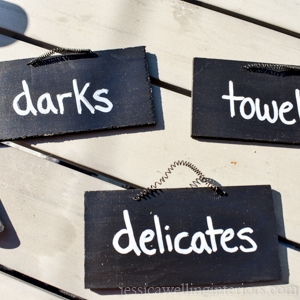 A Messy Girl's Guide to an Organized Pantry